On February 9, 2012, when the stock was trading at $64.28, we reviewed the Speed Resistance Lines for Clean Harbors (NYSE:CLH). At that time we indicated the Clean Harbors had the following downside targets (found here):
Currently, Clean Harbors (CLH) has declined to the $54.80 level which, in our view, happens to be a critical support level for shareholders of the stock. As can be seen in the chart below, the price of CLH fell below the 200-day moving average (red line) on June 1, 2012. Additionally, on three occasions the price of CLH attempted and failed to exceed the 200-day moving average (red line).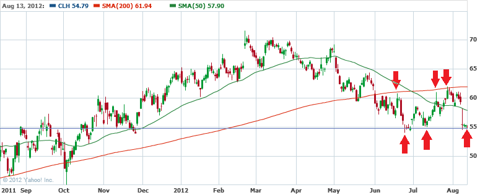 CLH is now bouncing along the support level of $55 (blue line). It is not clear whether the stock is going to retest the 200-day moving average which presently sits at $61.94. However, any additional decline in the stock price will likely lead to falling to $47.83.
Disclosure: I have no positions in any stocks mentioned, and no plans to initiate any positions within the next 72 hours.