Same oil, different prices - how the spread works!
The world features two distinct oil markets: Brent Crude Oil and WTI. West Texas Intermediate (NYSE:WTI) is the price that US producers receive while Brent is the price received in international markets. What is particularly surprising is that the grade of oil is striking similar; the quality of both WTI and Brent is high. For those trading oil futures, the prices of these commodities should be neck-and-neck, but they aren't. Newcomers to the investment scene may wish to understand why WTI and Brent prices are so different. What has happened recently in the US is that oil volumes of WTI production have increased and this has created what is known as an over-supply of oil inventories in the US. As the imbalance preponderates, so the disparity in prices between the two oil production entities will differ. It is interesting to note that both WTI and Brent have historically traded similarly.
The below graphics show the WTI/Brent Crude Oil Spread in 2013: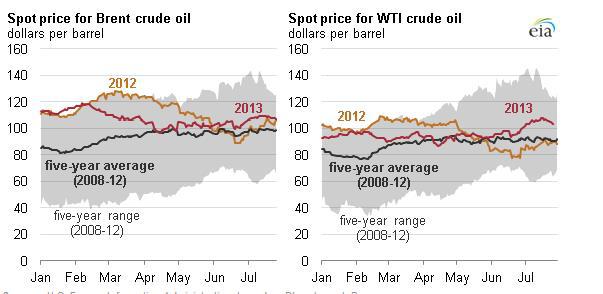 The other graphic reflects how closely WTI/Brent Crude Oil Traded until recently: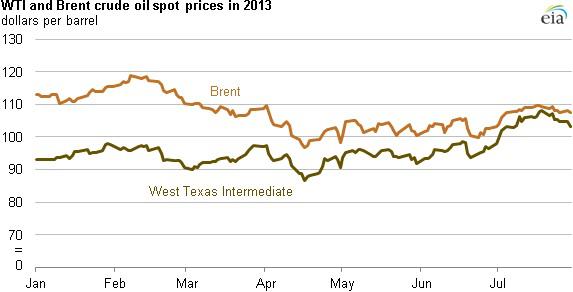 While the above graphic reflects convergence of prices, there has been a great degree of divergence in recent years. Since March 2014, the spread between WTI and Brent has been in a tight range of between $5 and $10. As recently as November 2013, the differential was almost $20. Brent typically trades higher than WTI on the global commodities markets. The spread has been diminishing of late with figures for the week ending May 2nd at $8.66 differential and a $7.93 differential by the week ending May 9th. The price of WTI Crude Oil has been increasing throughout the month May with figures spiking to $100.32 on May 9th and $102.95 by May 19th.

Brent Crude Oil prices have also moved up during May 2014. The price on May 9th was $108.26, and by May 19th the price had moved to $110.84 per barrel.