While the Nasdaq Composite and many tech components are starting to look green around the gills, QualCOMM's (NASDAQ:QCOM) shares have held strong at near six-month highs. Folks involved in the Tech Sector may not share this view; but my impression as a generalist is that QualCOMM flies under the radar. A characteristic that in my book may be a double-edged sword. Right now the company benefits from its relative obscurity versus the likes of Google (NASDAQ:GOOG), Facebook (NASDAQ:FB), Apple (NASDAQ:AAPL) or Intel (NASDAQ:INTC) because this is not where people first look when they think about selling tech. In good times the same holds true but in the opposite direction. So, this characteristic of QualCOMM shares may make it a less volatile means of exposure to technology, and given today's mood, that should not be overlooked.
By finding the average P/E for QualCOMM using a constant $5.11 (consensus for 2014; source: Yahoo! Finance) as the denominator for both YTD and the last 9 months of 2013's share prices, I found that the market is projecting growth of 13.6% on an annualized basis. The math is based on an average P/E this year of 14.6x divided by an average P/E last year of 12.9x. To put this into context the Street is looking for growth of 10.8% (FY15 EPS of $5.66 divided by FY14 EPS of $5.11). Interestingly, when you add back in its dividend yield of 1.8%, these two perspectives on perceived growth come into close alignment (i.e. 13.6% versus 12.6%). All this to say that there is not much variability on QualCOMM's valuation at present.
But things can change very rapidly and in many cases are not company specific but rather related to the industry. This may be a long shot, but Blackberry (NASDAQ:BBRY) reports its 4Q14 and FY14 results this Friday March 28, 2014. The company has been a cash drain for a while. So, whatever its management says about its own prognosis should be taken with a grain of salt. Still, given the tech sector's funk of late; any negative sentiment that BBRY may report regarding the industry could be used as a catalyst spurring broader sell-off in their vendors and all communication equipment providers.
I would be interested in picking up QualCOMM on a dip; but only at the right price. Based on my analysis of the company's balance sheet, cash flow statement, and income statement; I get to a fair value of $82 per share. Dividing that by 1.108 (the expected growth) yields a price of $74 per share as my entry point. Whether or not it gets down to my range in the near-term, the outlook for QCOM relative to its peers definitely has me interested (see table at end of article for comparisons).
Outlook for QualCOMM
As of January 29, 2014, QualCOMM's management provided revenue guidance that ranged from $26 billion to $27.5 billion. The consensus of $26.8 billion for FY14 is slightly above the mid-point of QualCOMM's management's guidance. The mid-point of management's 2014 sales projection is 7.6% higher than actual revenue for FY13. However, this would mark a deceleration from +30% growth for FY13 versus FY12's revenue.
Outlook for Nokia
The comparison of projections with past revenue is not beneficial for evaluating Nokia (NYSE:NOK) because the company recently sold its Devices and Services business to Microsoft (NASDAQ:MSFT) for EUR 5.44 billion. With that said the company reported that its continuing operations posted a net sales decline of 17% during FY13. Looking forward the company's sales are expected to grow at the second fastest pace among its larger peers.
Outlook for Ericsson
Net sales for Ericsson (NASDAQ:ERIC) during FY13 were flat versus FY12 levels (SEK 227.4 versus SEK 227.8 billion). However, sales adjusted for FX grew approximately 5% year-over-year. The company has been targeting an annualized growth rate of 4% through years 2012 - 2016. Thus, consensus estimates of 3.8% between FY15 and FY14 are similar to the company's long-term guidance.
Outlook for Motorola Solutions
Motorola Solutions (NYSE:MSI) sales were flat in 2013 at $8.696 billion, just $2 million below what the company posted in the prior year. The company's guidance for 2014 ranges from flat to an increase of 2% over 2013 sales. But the company is anticipating that it can improve its non-GAAP operating margins to 18.5%, from 17.6% or a 90 basis point climb y/y.
Outlook for Cisco Systems
Cisco Systems (NASDAQ:CSCO) did not provide specific annual revenue guidance in its recent conference calls with investors other than to suggest that investors should model revenue conservatively. The company has however provided non-GAAP EPS guidance that ranges from $1.95 to $2.05 for FY14. The expectations on Wall Street are just below the mid-point of this range at $1.99 per share with consensus assuming that FY14 revenue equates to $46.4 billion or ~ 5% below the prior year. If Cisco's 3Q14 shapes up in a fashion similar to the company's guidance, then CSCO will have to have a strong 4Q14 in order to achieve its full year EPS guidance.
Appendix - Tables and Charts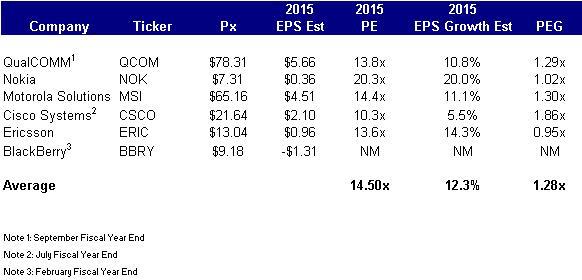 source: Yahoo! Finance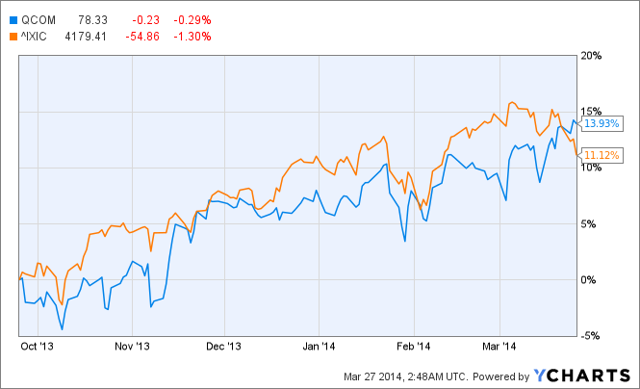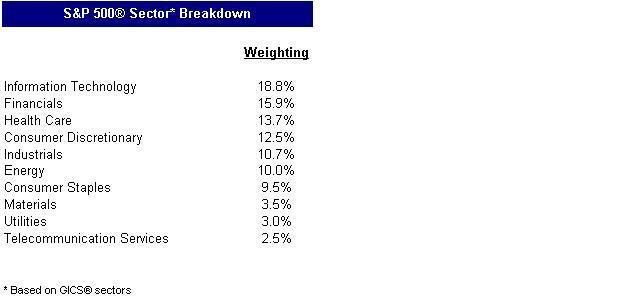 Source: S&P Dow Jones Indices McGraw Hill Financial, February 28, 2014
Disclosure: I have no positions in any stocks mentioned, and no plans to initiate any positions within the next 72 hours. I wrote this article myself, and it expresses my own opinions. I am not receiving compensation for it (other than from Seeking Alpha). I have no business relationship with any company whose stock is mentioned in this article.