I attempted to get this article published but it was rejected. So, here is the thing. Feel free to poke holes and best of luck to you.
We were fortunate to be holders of Idenix Pharmaceuticals (NASDAQ:IDIX) prior to the announcement that Merck (NYSE:MRK) was acquiring the company. As this was the sole biotech company in our portfolio, we need to find a replacement now that we have sold our IDIX shares. The following is an overview of how we screened through the Biotech industry to arrive at a short list of candidates that we could then evaluate further.
In order to fundamentally rank companies it helps for the companies to have positive earnings. Furthermore, in an arena like biotech it also helps to take advantage of companies with positive momentum. Therefore, we screened the 305 companies that comprise the biotech industry and found that only 27 are profitable. Of the 27 profitable companies, we plucked out the 15 that ranked in top 20% of all biotechs for their 52 week performances. Finally, we made the decision to look at smaller capitalization companies. The rationale here is to take advantage of the prospect that, generally speaking, smaller companies tend to offer outsized gains. So, in our final pass we screened for market capitalizations that were less than $1 billion. This last screen whittled our sample to just 7 companies.
Two of these seven companies Titan Pharmaceuticals (OTCQB:TTNP) and Mymetics (OTCQB:MYMX) are microcaps and penny stocks. So, we have decided not to research these couple any further because of their lack of market liquidity. Another company, Anacor, only passed our screens because of a litigation settlement with Valeant. Otherwise the company would not have been profitable over the past 12 months.
So the finalist in our SmallCap BioTech Beauty Pageant are:
And the winner is......
Repligen
We picked Repligen through our ranking system that attempts to value companies based on their financial condition, share price volatility, balance sheet strength, and future cash flow. In some respects, the characteristics within the Piotroski Score are evaluated, but the importance of book value in our method has a less meaningful impact than it would using a Piotroski method of evaluation. Based on the quantitative characteristics that we measured and weighted, Repligen scored highest in terms of operating margins, relative valuation, and share price volatility.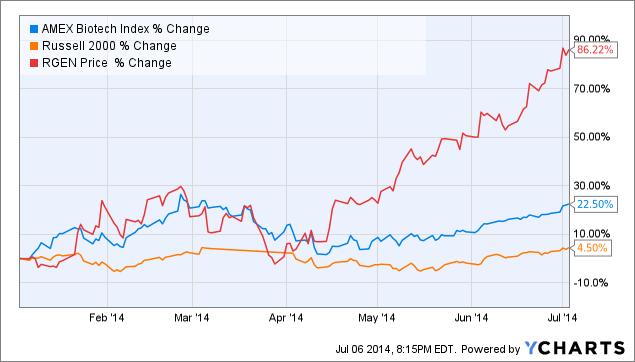 Repligen's shares have taken off like a scalded dog in recent months. This may scare some off through the perception that its valuation is already getting stretched. And the integration of the recent acquisition of Refine Technologies (fermentation optimization processing) adds another layer to its existing execution risks. As we saw recently, a sell off in the market was magnified in the drop in RGEN shares. Thus, playing a high beta stock like RGEN, if you are expecting a retraction in the market, probably does not make great sense. Our current view is that market remains in a bullish phase. As such we are viewing the recent pullback as a good entry point for shares. Please keep in mind that most biopharma/biotech analysts have a background in the industry. I do not. Caveat Emptor.
Disclosure: The author is long RGEN.