Recently I have purchase shares from Lake Shore Gold Corp. (LSG), a company that is flying under the radar and has the potential for huge gains.
Reason 1: LSG shown an ability to increase gold production through their explorations.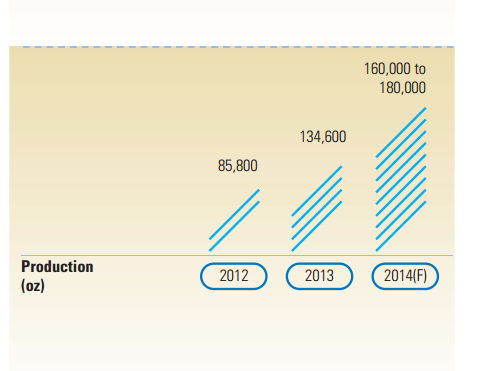 Their guidance for production of gold in 2013 was 120,000 to 135,000 oz, and was able to produce on the higher end of guidance range.
Reason 2: On track with their guidance of gold production for 2014 with the gold production in Q1 of 2014 to be 44,600.
Reason 3: A decrease in operating cost per gold ($630 per ounce) in Q1 of 2014 compared the average of 2013 ($770 per ounce sold). This will result in greater profit margins for LSG.
Risk: Price of gold maybe bearish.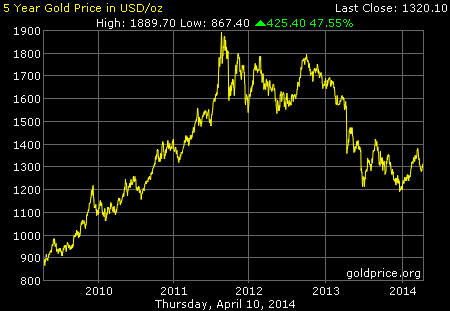 In 2013, Gold price has finally hits it's first low after a 12 year bullish run. Investors must understand that during 2012, China was purchasing gold in a frenzy due to their economic growth. During 2013, China cut back on the purchasing of gold to reach stabilize levels. I believe 2013 is nothing more than a bump in the road for gold prices, and will continue to increase in 2014 for a range of 1300-1500.
Reason 4: Comparing Q1 of 2013 to Q1 of 2014
(click to enlarge)

Click to enlarge
Q1 of 2013 shows the price of gold was higher at $1,630 when compare to Q1 of 2014 of $1,294. Even with the price of gold being higher, in 2014 LSG produce more gold at lower operating cost. This leads LSG to produce an estimate of $30 million in cash, which is a 36% increase from a year prior.
Overall: Even with potential decrease in the price of gold, LSG increase efficiency makes it a very bullish company in 2014.
Disclosure: I am long LSG.