RadioShack (NYSE:RSH) has been projected to go to low territory they haven't seen since the 1980's. Recently, the stock oversold and dropped to $1.31 per share.
(click to enlarge)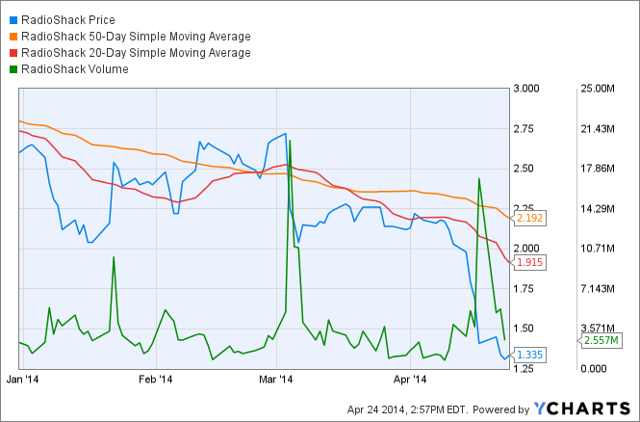 Click to enlarge
This company is a risky investment. While RSH is making some positive moves by cutting costs, closing down underperforming stores, and developing a new model for their stores the trend lines for RSH will continue to push the stock in a downward trajectory for the near future.
Nevertheless, the stock price has consistently moved in line with moving averages and the recent high volume pushed the stock price down too far too fast.
While it isn't hard to argue that RSH will drop even lower, it is likely that the stock will rally over the next few weeks, as some bulls try to sweep in and cheaply purchase RSH stock.
In the long run, RSH's stock can rebound if the new store model and cost cutting measures work.
In the short term, the stock will most likely reach the $1.60 - 1.70 range before returning on its downward trajectory. This would be a good choice for someone interested in a short-term investment idea.
Disclosure: I am long RSH. I wrote this article myself, and it expresses my own opinions. I am not receiving compensation for it. I have no business relationship with any company whose stock is mentioned in this article.