Here is another long-term look at the competing trends that are taking place in the global equity markets. Kimble Charting Solutions shows the triangles in both the developed international equity market (NYSEARCA:EFA) and the emerging market equity market (NYSEARCA:EEM).
I continue to see downside risk here as the intermediate trend is downward from the 2011 peak. Early 2012 was above the 10-month trend for these two ETFs but the May swoon broke the trend. Currently EFA and EEM are both slightly above their respective 10MMAs.
The challenge that I see is that if the intermediate downward trend remains the dominant trend then the above 10MMA trend will likely not persist. The biggest whipsaw however has been International REITs (NYSEARCA:RWX) which only briefly broke its 10MMA in late May/early June only to rebound strongly and break the intermediate downward trend.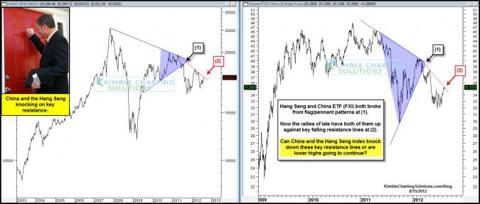 blog.kimblechartingsolutions.com/2012/08.../
Lastly, match the price trends with fundamental data in Europe and China coming in weak and I have a difficult time seeing upside. (Note however that valuations themselves are likely improving for future positive returns once these economies recover.) Therefore I am tending to weight caution above optimism at the junction.
Disclosure: I have no positions in any stocks mentioned, but may initiate a long position in EEM, EFA over the next 72 hours.