I plan on posting trades on pairs of stocks in this regular column on a daily basis. These are meant for individual investors to buy one stock while simultaneously selling short another with the goal of realizing an annualized return of 12% to 20% with super-low drawdowns of less than 8% and low annual volatility. This system is an ideal place to earn returns better than cash, without having to figure out the direction of sector, or stock market movements
The buy and sell short signals for the matched paired trades are generated from my quantitative investment system.
These ABSOLUTELY FREE trade signals are meant to bring the power of quantitative investing to the masses of individual investors. These signals are immune from being gamed by Wall Street.
Trades for you to execute at market open on Monday, April 7, 2013:
Sell short 200 shares of PFG (PRINCIPAL FINANCIAL GROUP)
Buy 257 shares of LNC (LINCOLN NATIONAL CORP)
The picture below shows the current divergence in this paired trade PFG-LNC on 2013-04-06 that we expect to converge, resulting in our profit within a few weeks.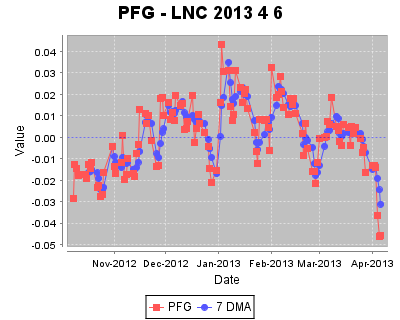 For more details on my system, please read previous postings from my articles in this seekingAlpha website. A summary is included below.
System Description
This trading system screens the universe of Russell 3000 stocks for matched stock pairs to go long and short. In this screening process, the automated computer system uses proprietary quantitative methods assembling 120,000 possible reasonable pairings of stocks in the Russell 3000 Index. Of these possible pairings, only a handful meet our strict criteria that decide which stock in the pair to go long and which stock to go short and when. When such a trading signal is generated, we immediately trade it with market orders, but you could use limit orders so long as you get filled within the same day.
Our stock pairs trading signal consists of simple instructions of the kind:
Buy 1000 shares of EQR, while
SIMULTANEOUSLY selling short 575 shares of VTR
You need to implement this trading signal by buying and selling both legs of the matched stock pair. You may execute the paired trading signal within a few hours of the system issuing the signal. We will also provide you the closing signal on the trade pair, usually within a few days. Again, you must get out of the two legs together when your receive our exit signal.
Since there is plenty of time to implement the two trades, you can go about your business or hobbies without being glued to the financial markets. All you need to be able to do short selling is to open a margin account with your discount stock brokerage.
Disclosure: I have no positions in any stocks mentioned, and no plans to initiate any positions within the next 72 hours.