This is an update on the paired trade as of market close on Wed, Apr 10, 2013. The trade was entered based on prices on market close of April 5, 2013
Sell short 200 shares of PFG (PRINCIPAL FINANCIAL GROUP)
Buy 257 shares of LNC (LINCOLN NATIONAL CORP)
The trade is now showing even more profit after 3 trade days,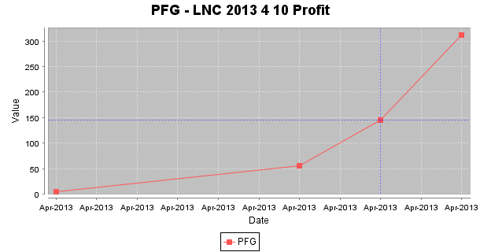 An individual investor with 50% margin a brokerage account would have needed a margin of about $7300 if she used the trade quantities of -200 PFG and long 257 LNC. With the $311 profit it now shows, she has a return of over 4% on the amount of margin used in only 3 days. What's more,the volatility of this return is much lower than that of alternative strategies that would rival cash. I will demonstrate the low volatility, drawdown etc of this strategy in my future articles, and show how effective it is as an alternative to a dividend strategy
As the picture below shows, after 3 trade days, the spread on this paired trade is continuing to converge even more. My system shows that it is still fine to enter this paired trade even now. You still have time to capture more profit by entering this trade if you have not already done so.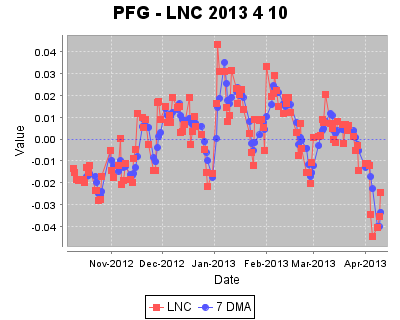 You may compare this figure above to the figure for each of the prior 3 days shown below to see how the spread is converging to 0.