The inside bar can be an extremely effective Forex price action strategy, however the effectiveness of the inside bar strategy relies heavily on the price action surrounding the bar itself. In other words, an inside bar alone does not constitute a valid trade setup. Rather we need further price action confluence in order to make it a trade worthy of our hard-earned money.
So what kind of confluence do we need? I'm glad you asked!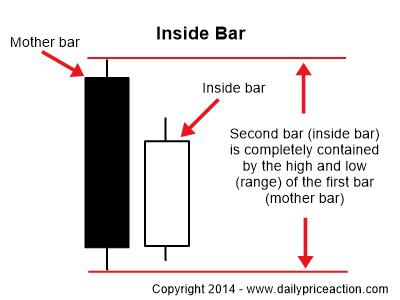 Before we dive in, I want to be sure we're all on the same page with the characteristics of an inside bar and the terminology we'll be using in this lesson, so please take a quick gander at the illustration to the right.
Ok, moving on!
Finding the Right Time Frame
The first thing we need to know about the inside bar strategy, is that it works best on the higher time frames. For those familiar with how I trade price action, you know that I do about 90% of my trading on the daily time frame, with the other 10% spent on the 4 hour charts. The reason the inside bar works best on the daily chart is because you don't get all the 'noise' that you do on the lower time frames. The daily chart acts as a natural filter and therefore produces cleaner price action patterns that can help put the odds in your favor, if you know what to look for. ;) The inside bar also works best on the daily time frame (or anything higher) because it simply doesn't occur as often, so the worthwhile trade setups become more obvious. If you look at a one hour chart, you can probably find multiple inside bars in a single day, whereas you might find just one or two inside bars on the daily chart for the same currency pair.
Trending or Consolidating?
So now that we're all on the daily time frame looking for inside bars, the second requirement is that it must occur in a strong trend. An inside bar in consolidation won't give us clear 'directional bias', which we must have to constitute an effective inside bar setup. To illustrate the significance of this requirement, I've included two annotated charts below. Notice how the inside bar that occurred within a strong trend was very obvious and would have given us a nice gain, while the inside bars that occurred within consolidation were not as obvious and would've been difficult to trade with any degree of confidence.