Summary
TMNG is a low float stock with very low short interest.
Donald Klumb - CEO comes up with the very strong earnings report Yersterday it closed strong today.
Chart pattern looks amazing it had already traded its all time high yersterday has potential to spike huge.
Its Compitetors are doing amazingly great its time for TMNG to reach upto 7$ per share.
Company Description
The Management Network Group, Inc., a management consulting company, provides professional services and technical solutions in the United States, the United Kingdom, and Western Europe. It offers strategy and business case development services, including business case development, data and content strategies, marketing spending optimization, service and brand diversification, enterprise and small business strategies, technology commercialization, and operational strategies; marketing services; and knowledge management services to solve problems associated with knowledge creation and distribution, sharing and leveraging existing knowledge, tools, and processes. The company also provides Ascertain, a revenue management and data integrity toolset that provides evaluation of processes, metrics, and control points. In addition, it offers program management services; business and operations process redesign and reengineering services; and corporate investment services, such as evaluation of management teams and business plans, and identification of strengths and weakness of the company, as well as analyses of the company's financial models, systems, products, and operational and business processes. Further, the company provides technical consultancy and software solutions in the areas of requirements definition and capture; data analysis; selecting and implementing mediation; provisioning; customer and inter-operator billing products; integration systems to provide resilient automated processes; migrating end-customer products; customers and networks; planning, managing, and executing end-to-end systems; and software testing. It serves communications service providers, and cable multiple systems operators, as well as technology companies, media and entertainment companies, and financial services firms that invest in the communications industry. The Management Network Group, Inc. was founded in 1990 and is based in Overland Park, Kansas.
Low Float With Very Low Short Interest
TMNG is kind of stock which everyone likes to be on , low float stock with 4.43 million shares as a float with very low short interest of 0.30% which is there is no way that this stock gets beaten down.
Its competitor are doing amazingly superb job you can go through BAH and ACN multi billion dollar company's and are trading way higher then TMNG. So it needs not a lot of buyers to push beyond the resistance.
Strong Earnings Report
Yesterday company came up with very good earnings report with substantial growth in the business. The former CEO of The Management Network Group (TMNG) Donald Clumb said
"We drove substantial growth in the business organically all while implementing our rebrand, reorganization and launching a promising strategic alliance with Elutions. We truly opt to a solid start in 2014 with revenue growth of 16% that is purely organic and independent of our relationship with Elutions.
In the first quarter, we also saw improved profitability while at the same time we invested R&D into our co-platform and the Elutions partnership. We view these as positive indications that we are on the right path with our reorganization and transformation plan for Cartesian.
Revenue increased approximately 16% sequentially and year-over-year to $16.2 million and we drove positive operating income.
Gross margins of 36.5% for the quarter were relatively flat compared to the 36% recorded a year ago. However, we are seeing an uptick, especially in North American margin. In Q1 margins on new North American business were significantly higher than our overall gross margins demonstrating the ability -- or demonstrating the benefits as sales tilt more towards strategic and solution based engagements, including our managed analytic big data offerings.
On the European side, we are seeing deeper contraction with some of our larger clients, though a number of these new programs are still too much SME-focused with margins in line with recent historical quarters.
Overall, we are pleased with the increased in new business activity across the company which is continuing into the second quarter. As I said at the outset of my comments and repeatedly in the past, our goal is to continue to migrate our business towards higher margin, longer term offerings, including technology based solutions such as software and managed services.
Too much of our traditional consulting business is still in providing subject matter experts. And while we continue to engage in these programs as part of our account management strategies, the changes we made in our operations and our ongoing operational initiatives are focused on diversifying into higher margin, repeatable revenue sources.
I offer two examples of this from the first quarter i.e., those new opportunities that were either repeatable and/or longer term in our higher value margin solutioning. And they also our two new clients, well those are accounts for the firm. We had a very nice win in the quarter with large regional service provider helping them transform their legacy network into an IP-based network and displacing a very large global competitor. And we've also signed on for a cloud initiative with a global technology leader."
He also mentioned "Ascertain, our software platform is a key component of our initiative to drive technology and managed service solutions to our engagements. We continue to involve the Ascertain and what it can do for clients. As previously discussed, we have a new commercial engagement supporting data storage as we have evolved our event search module surrounding big data. We also just executed a £9.9 million multi year engagement with the tier-1 client in the UK to lead CapEx project initiatives for them. And it also includes another £900,000 Ascertain license agreement transitioning from our legacy support program with our goal of embedding our Ascertain platform into their wireless transformation initiatives.
The progress I discussed with you today is evidence of early traction in the long-term process of migrating our business to a more profitable, durable model. Our people are truly our greatest asset, and we have a wonderful customer base in our traditional business. That combination gives us a head start in the transition, a wonderful base to build off of. That said, a transformation of this magnitude does not grow overnight. I will continue to update you on our progress.
Let's now turn our strategic partnership with Elutions. Following the execution of our agreement late in the first quarter, we have been aggressive in North America and UK, European markets introducing our new operational intelligence and energy and asset optimization offering. We have developed a significant pipeline very early in this relationship and the account activities are in various stages with a number of clients. We are particularly encouraged by a specific late stage discussion. With that we hope to be our first joint client in the near term.
We continue to see great potential in this partnership and the opportunity to differentiate our energy management operational improvement offerings. This sector has significant energy spend that is growing with cloud adoption and the need of intelligence and innovation in this area. In deploying the full suite of service offerings within the smart building portfolio and utilizing the Maestro advanced analytics platform, we are ultimately investing with our customers to realize material savings that will be to our mutual benefit. It is important to understand that out go-to market strategy for the Elutions partnership is quite different than the strategy of our traditional consulting business. But its a strategy that better reflects where we want to take the firm."
Chart Patterns (Technically and Fundamentally) TMNG Looks Amazing
(click to enlarge)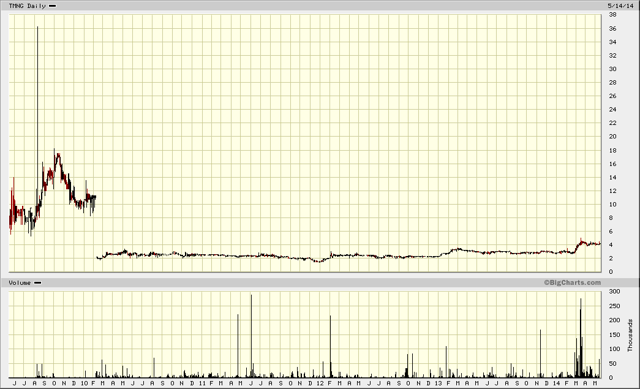 Click to enlarge
When we go through the deep chart analysis we can clearly see this low float stock is in the verge of breaking its all time high. Yesterday it has already traded some shares at its all time high that is $4.54 per share area and then it went down because there we not a lot of volume this is because not a lot of trader knows the potential of this company. This stock has been gradually up trending and it's at the point of breaking all time high.
If we talk about fundamentals of this company it looks great to me 7.70% year over year growth rate with some real cash in hand and of course no debt. You can see the image itself and analyze the potential.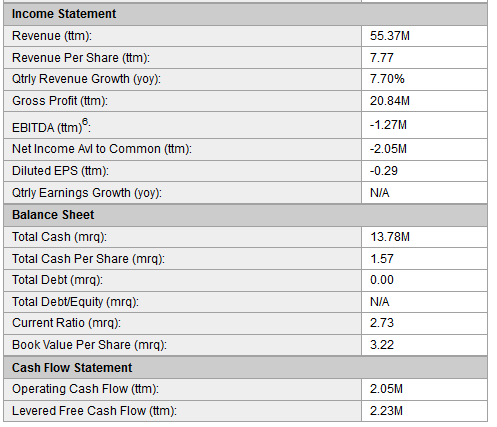 Conclusion
I am long in this stock because i see potential in it its competitors BAH and ACN multi billion dollar companys are trading way higher then TMNG and i think its time for TMNG to rock and roll and also let me complete my article saying this stock has been hidden in trash and i think its time to let people know the potential this company has got. I personally feel it can make a move upto 7$ per share soon.
Disclosure: I am long TMNG.
Additional disclosure: I wrote this article myself, and it expresses my own opinions. I am not receiving compensation for it. I have no business relationship with any company whose stock is mentioned in this article.