Highlights:
Most of the highlights this week were covered in my "Latest BDC Rankings: Discounted At Last?" article on Wednesday.
Hercules Technology Growth Capital (NASDAQ:HTGC) announced Q2 commitments of $223 million but with a majority closing late in the quarter as well as early repayments of over $93 million and revenue generation from the funding of the new investments should be fully reflected in Q3 results. This is in line with last quarter and I did not change the Q2 EPS projection of $0.25 but I expect Q3 to be slightly higher and still need to do more analysis before adjusting the profit category.
Full Circle Capital (FULL) announced that it has priced an underwritten public offering of $18.75 million in aggregate principal amount of 8.25% fixed-rate notes due 2020 and intends to use the proceeds repay outstanding indebtedness. However, it intends to borrow additional amounts under its credit facility to make investments in new portfolio companies. FULL has a lower than average debt to equity ratio but most of the debt was at variable rates and this offering of debt at a fixed rate should significantly help to reduce its interest rate exposure so I adjusted the risk ranking up slightly (implying less risk).
American Capital (NASDAQ:ACAS) announced share purchases in Q2 of approximately 9.1 million shares of common stock, or 3% of the outstanding shares. The shares were purchased at an average price of $13.77 per share, totaling approximately $124.9 million. In Q1 2013 ACAS purchased 9 million shares at an average price of $14.23, totaling approximately $128.3 million. Currently ACAS is trading at $12.67 with a NAV of $19.04 per share. These share repurchases were in line with expectations so I did not adjust the profit or valuation categories.
These are the five general criteria I use to evaluate BDCs:
Profitability (EPS to cover dividends, NAV and EPS growth)
Risk (rate sensitivity, diversification, portfolio quality, volatility)
Payout (sustainable, consistent, growing)
Analyst Opinions
Valuation (NAV, P/E, PEG)
Below is an oversimplified table with rankings between 0 and 10 (10 being the best) relative to the 25 BDCs I have reviewed (The Good, The Bad, and The Maybe). Investors should only use the following information as a starting point for due diligence. In reality I use different weightings for almost 100 data points on each company and my personal rankings (based on my risk/return comfort) are close to these but far from exact. Investors should weight each category based on their investment needs for example if risk is more important than dividend yield then a BDC like MAIN would be good, etc. Also keep in mind that each category takes many things into account like the payout is more than just dividend yield and includes historical dividend growth and sustainability through coverage from net investment income.
The tables below do not actually contain whole numbers and the totals might different (by 1) due to rounding: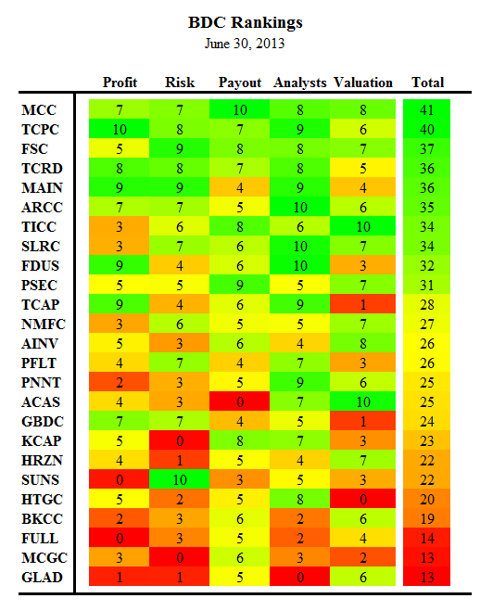 Below is a variance table showing changes since the last ranking table. As discussed earlier, FULL moved up slightly in the risk category as it secured fixed rate financing. The only other changes were related to price movements and the effects on overall yields. Golub Capital (NASDAQ:GBDC), PennantPark Floating Rate Capital (NASDAQ:PFLT) and Gladstone Capital (NASDAQ:GLAD), all moved up in the valuation category due poor stock performance relative to most BDCs during the week. KCAP Financial (NASDAQ:KCAP) on the other hand, was up almost 9% in the last 5 days and was already overpriced so it moved further down in the valuation category and the overall rankings.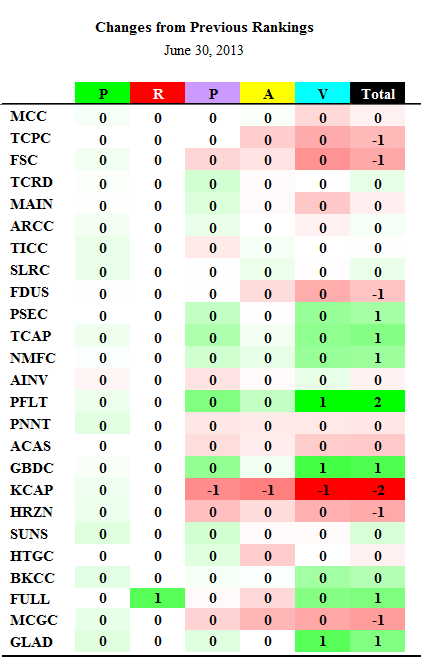 Below are lists of the BDCs that I consider to be the five most undervalued and overvalued. For individual price targets and valuation methodology detail please email me directly at bdcbuzz@gmail.com or visit my blog at bdcbuzz.blogspot.com.
Five most undervalued BDCs:
Five most overvalued BDCs:
Disclosure: I have no positions in any stocks mentioned, and no plans to initiate any positions within the next 72 hours. I wrote this article myself, and it expresses my own opinions. I am not receiving compensation for it (other than from Seeking Alpha). I have no business relationship with any company whose stock is mentioned in this article.