If you would like to receive weekly email updates with price targets and rankings for each BDC please email me at bdcbuzz@gmail.com and put "Subscribe" in the subject line.
This Week Highlights:
Profit Category Changes:
Payout Category Changes:
Adjusted KCAP upward because the stock price dropped 7% and the dividend yield is now 10.7%.
Analyst Category Upgrades & Downgrades:
Adjusted HTGC downward because was downgraded to Hold at Janney Montgomery Scott. Up 26% this year - and notably not getting caught up in June's income stock selloff - Hercules has surpassed the analyst's $13.50 price target.
Adjusted KCAP upward because Trading Central upgraded it from SELL to BUY.
Adjusted NMFC upward because Oppenheimer initiated coverage with a Outperform and price target of $15.
Valuation Category Changes:
Adjusted KCAP and TCPC upward because they underperformed the other BDCs and became more favorable from a valuation stand point.
Adjusted FSC, SLRC, TCAP, AINV, PNNT, GBDC, HRZN, SUNS, BKCC, MCGC, and GLAD downward because they outperformed the other BDCs and became less favorable from a valuation stand point.
Latest Articles:
These are the five general criteria I use to evaluate BDCs:
Profitability (EPS to cover dividends, NAV and EPS growth)
Risk (rate sensitivity, diversification, portfolio quality, volatility)
Payout (sustainable, consistent, growing)
Analyst Opinions
Valuation (NAV, P/E, PEG)
Below is an oversimplified table with rankings between 0 and 10 (10 being the best) relative to the 25 BDCs I have reviewed (The Good, The Bad, and The Maybe). Investors should only use the following information as a starting point for due diligence. In reality I use different weightings for almost 100 data points on each company and my personal rankings (based on my risk/return comfort) are close to these but far from exact. Investors should weight each category based on their investment needs for example if risk is more important than dividend yield then a BDC like MAIN would be good, etc. Also keep in mind that each category takes many things into account like the payout is more than just dividend yield and includes historical dividend growth and sustainability through coverage from net investment income.
The tables below do not actually contain whole numbers and the totals might different (by 1) due to rounding: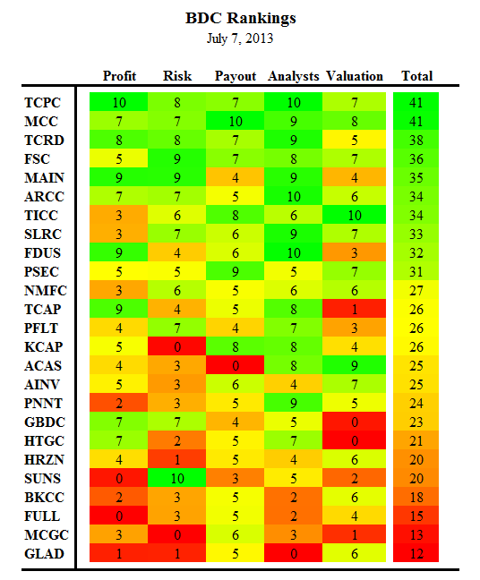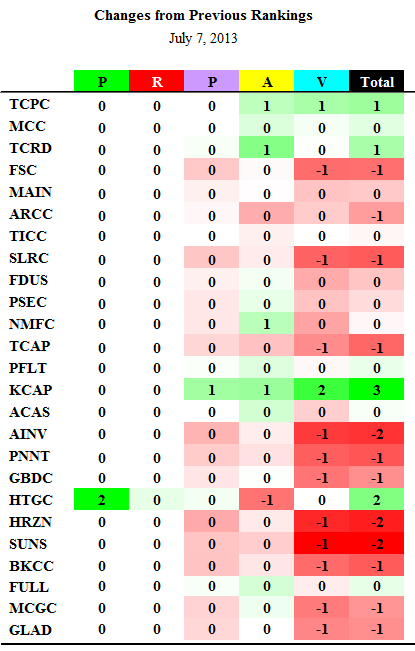 In a recent series of articles "BDC Risk Profiles" I took an in-depth look at the relative risk levels of each BDC. Specifically, I looked at portfolio credit quality, investment asset classes, diversification, non-accrual rates, portfolio yield, fixed/variable rate loans, leverage, interest rate sensitivity, volatility ratios, market capitalization, insider ownership and trends, institutional ownership and trends, and management/operational history for each BDC. I then used various weightings to come up with an overall relative risk rank and compared the pricing multiples of NAV and EPS for each. I believe there is a strong correlation between investors perception of risk and the valuation multiples they pay. The table below breaks down the BDCs into groups with associated multiples:
For charts please email me at bdcbuzz@gmail.com and put "Subscribe" in the subject line.
I have included the price to 2013 EPS (FWD P/E) estimates which are very close to the multiples for LTM EPS.
Currently the average NAV multiple is 1.06 (excluding ACAS as an outlier) and P/E multiple is 11.0 using LTM EPS (with the exception PSEC which I normalized for impacts from the Gas Solutions sale). The 'standard deviation' statistically measures the variation of pricing compared to the average, with 68% of BDCs priced within one standard deviation from the average or between 0.93 and 1.19 times NAV and between 9.2 and 12.7 times LTM EPS.
Ideally, each BDC would be priced along a valuation curve with investors paying a premium for favorable risk to reward ratios. The chart below attempts price each BDC based on risk levels using the current averages and standard deviation of multiples. Keep in mind that these multiples can change at any time and are just averages of what people are currently paying.
For charts please email me at bdcbuzz@gmail.com and put "Subscribe" in the subject line.
This pricing methodology would imply that some BDCs are undervalued and overvalued, but also shows that 11 of the 25 BDCs I cover are priced within 10% of the implied pricing.
The only change to the top and bottom 5 was PSEC replaced ACAS as being valued slightly more favorable.
Five most undervalued BDCs:
Five most overvalued BDCs: