Let's take a quick glance at Mosaic (NYSE:MOS) from a technical analysis traders point of view. First, Mosaic (NYSE:MOS) missed earnings and revenue numbers a week ago. From that point, the stock saw a drop, while the recent trading days have experienced some sideways action on the charts. When selling occurs in a sector leader such as MOS, you can expect this selling to put pressure on stocks like Potash Corp. (NYSE:POT) and Agrium Inc. (NYSE:AGU) in sympathy.
While the S&P500 (NYSEARCA:SPY) has floated higher the past weeks/month, retesting the highs, Mosiac (NYSE:MOS) has not seen much of a bid (rise in share price) and the stock has remained in this relatively sideways pattern. This is telling us that if the MOS chart can breakout of this sideways pattern and start to tick lower, a move further lower should be expected and the sympathy trade on those companies mentioned previously should follow that downward action.
This is just one simple example of why you need to read the charts. People all too often wonder why a stock sold off on great earnings or other reports that seemed positive. Well the reason for that is simple, the charts tell the future. In the case of Mosaic (NYSE:MOS), the charts are telling is that MOS is looking weak, as it has not followed the markets higher. Based on this, a smart trader will watch the charts closely and be ready for when they tell us to either buy or sell the stock.
I will take a position in the stock when I get the right supporting factors to my trade; I will look for a time count and chart pattern to confirm my reasoning.
(click to enlarge)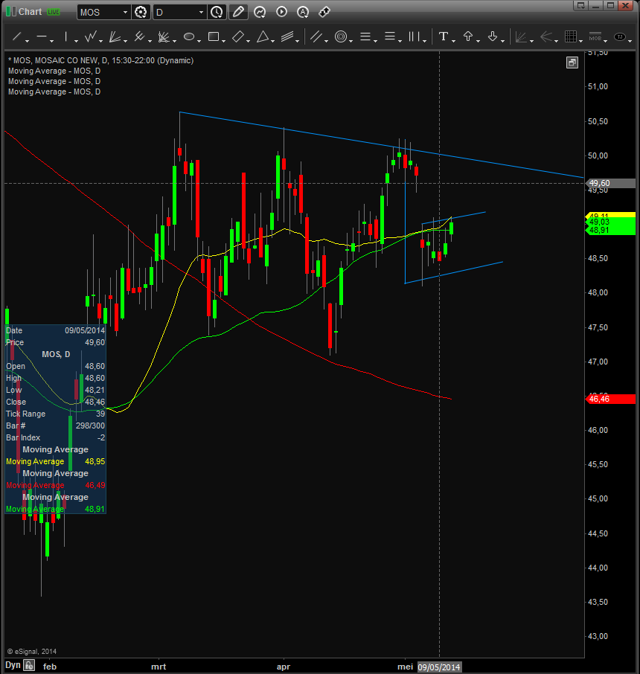 Click to enlarge
Disclosure: I have no positions in any stocks mentioned, but may initiate a short position in MOS over the next 72 hours.