Last week, Tesla Motors Inc (NASDAQ:TSLA) reported earnings which beat expectations. Now, after almost a week later, the stock has had a continued move higher. While it appears the demand for these clean energy cars is high, my eye is on the next TSLA trade. In late February of this year, TSLA saw a large decrease in its share price, selling its high around $260, all the way down to break the $200.00 level. We were on the right side of that sell off and earned great profits from it, we also reversed the position and bought the stock for a bounce higher after the sell off - that is what traders do. We don't care about the news, hype or anything other than what the charts tell us; the charts provide the best and most accurate view of what a stock is truly doing and where it is headed.
Now, again we look to the stock chart of TSLA to find the best place to enter a trade. At this point in time, the TSLA chart is beginning to look increasingly bearish, therefore the upside may be limited for the coming period. While it is possible to see the stock move higher, the best level to consider for a short position (shorting means you are positioned to profit when the stock price goes lower) is in the $264 - $265 area. Keep a close eye on TSLA, especially if it should move up to my previously mentioned level. If TSLA should move into that level, then you can consider entering the stock on the short side.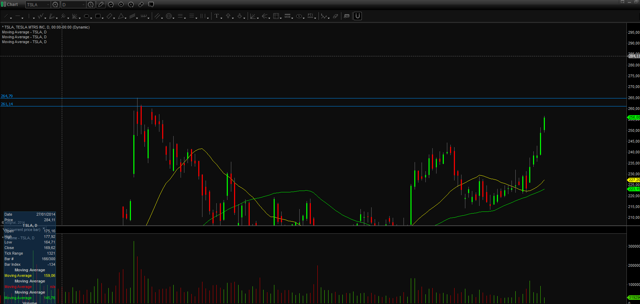 Kind regards
Kristof De Block
Disclosure: The author is short TSLA.