The Chicago Mercantile Exchange (NASDAQ:CME) raised the margin requirement on gold, which contributed to the sell off and decline in gold's price today. An increase in margin reduces the amount of leverage traders can use; in other words, it reduces the amount of contracts that can be purchased on credit. The effect of this is to get some of the weaker hands, participants whose interest are short-term and speculative, out of the market; in doing so, a temporary price drop occurs. However, better capitalized traders/investors can then come in and buy the dip. So in reality, a margin hike simply transfers gold from weak hands of speculators into the strong hands of better capitalized buyers. As these buyers are less likely to sell, the result is that gold's price stabilizes a bit, and its prospects for a strong bull market are only growing. 

In terms of price action, gold is back within the price channel that has been in development since the financial crisis of 2008. Buying demand at the $1500 level -- where both the bottom of the price channel and the 30 week moving average are currently situated -- should be very strong, if the margin hike can push enough speculators out of the market to push price to that level. Once the market can break past this channel to the upside even with margin hikes, I think the stage will be set for more rapid price acceleration, which may be expressed via the formation of a new, steeper price channel on the gold weekly chart.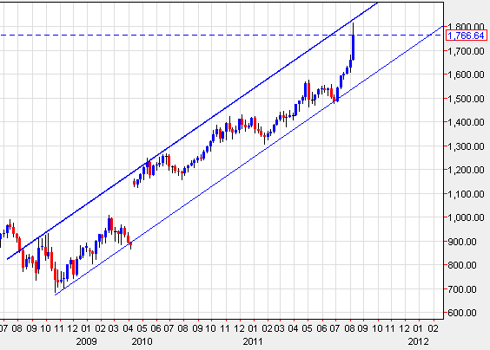 Disclosure: I have no positions in any stocks mentioned, and no plans to initiate any positions within the next 72 hours.