Sometimes one picture really is worth 1000 words. If you chart the price of almost any coal producer - in this case we pick on Peabody (BTU) - against the price of natural gas commodity (using the end of day index $NATGAS), what is immediately clear is that coal companies that are producers peak when natural gas commodity peaks. There is a time delay, but the relationship itself stands out clearly from the overlay time graph below.
What the chart below shows is that natural gas pricing has now hit a cyclical low that is below the pricing of a decade ago. And if the relationship between coal commodity pricing, natural gas commodity pricing, and coal producer pricing holds, this means coal producers are on the way back down to lows they have not seen for a decade.
I do not believe the coal producer lows made in 2009 will hold. I think most coal producers - particularly those burdened by debt and expensive top-of-cycle acquisitions - will go through their 2009 lows like a knife through butter. These cyclical stocks are about to hit on hard times, and those hard times will continue through at least 2015 or 2016, when natural gas starts to be exported as LNG and finally natural gas pricing can rise above levels dictated by domestic North American demand alone.
If this chart is suggestive of future coal producer stock prices, then buying coal producers at this point in the cycle is a huge mistake. And beyond the point that stock prices will fall, many of these companies have huge debt and maturities that will come due before 2016. We should not be surprised to see one or more of these companies enter Chapter 11 in the next few years.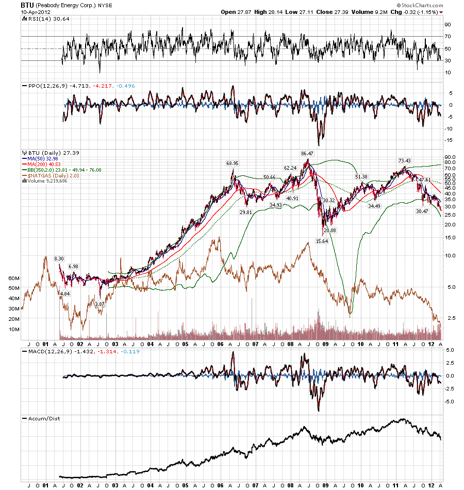 Disclosure: I have no positions in any stocks mentioned, and no plans to initiate any positions within the next 72 hours.