There's a lot to like about Apple (NASDAQ:AAPL) at current levels. For starters, it's incredibly strong financially.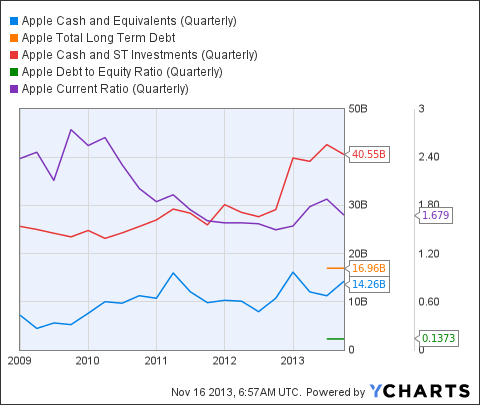 AAPL Cash and Equivalents (Quarterly) data by YCharts
Another positive is how shareholder friendly the company is becoming. Apple plans on spending about $60 billion on share repurchases by 2015, and its increasing dividend has immense upside. It's payout ratio is also very low, even after the last increase of 15%.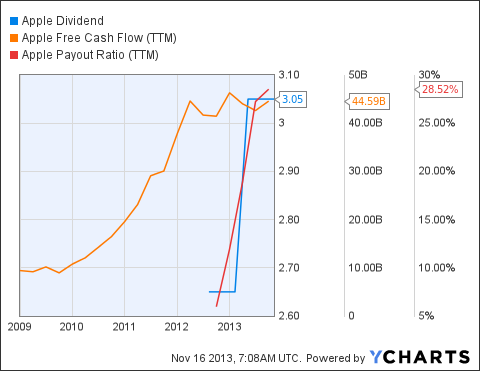 AAPL Dividend data by YCharts
Apple's buyback is especially significant now. Nobody wants to see the stereotypical plan put in place where the company decides to start buying back its shares at overvalued prices or all-time highs. Apple is buying itself cheap, and doing it on a massive scale.
But at what price?
A good question to ask when considering buying any company. What makes shares of Apple cheap?
| | | | |
| --- | --- | --- | --- |
|   | P/E | Forward P/E | Div (Yield) |
| AAPL | 13.21 | 11.02 | 12.20 (2.30%) |
| MSFT | 14.17 | 12.96 | 1.12 (3.00%) |
| GOOG | 28.13 | 19.82 | n/a |
Data from Yahoo Finance 11/15/2013
When compared to its peers, Apple is cheapest in relation to earnings-- both now and going forward. Microsoft (NASDAQ:MSFT) might offer a higher yield, but Apple's dividend will continue to grow rapidly as well. Apple is the largest company on the market by capitalization, has one of the strongest balance sheets, and is becoming incredibly shareholder friendly. I don't think the discount is warranted personally.
Future growth potential-- especially in China
Besides looking at its current valuations, looking at where Apple is heading is just as important.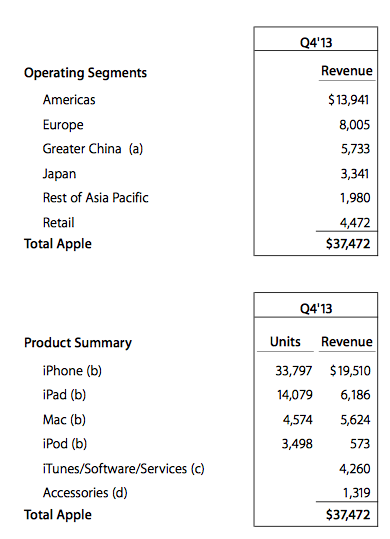 Apple still derives about half of its sales (revenues above are in millions) from the iPhone. The U.S. also remains as the company's largest market. Growing sales in China could be lucrative, however, especially since it is the world's largest market for smartphones.
A deal with the country's largest carrier, China Mobile (NYSE:CHL), would inject a large shot of growth into Apple's iPhone sales in China. A deal between the two companies has been rumored for awhile, with many speculating it to take place sometime in 2014.
Gartner thinks that Apple could double its smartphone marketshare in China in a one year period if a deal is done. 63% of China's 1.19 billion wireless accounts belong to China Mobile.
Both new iPhone models now support all 13 LTE bands, including the ones needed to work on China Mobile's network, which wasn't the case with the older models. The chairman of China Mobile also indicated back in August that the two companies were getting closer to a deal.
The iPhone 5s and its implications for the future
The iPhone 5s might not seem that radically different and innovative to the average consumer, but there are a few features inside it that could be leading towards bigger things down the road.
The first is the A7, which is a custom-designed 64-bit system on a chip (SoC). The 5s became the first smartphone ever to implement a 64-bit ARM CPU with its A7. This could be a quiet step leading up to Apple's next move-- creating a unified and converged operating system that can flawlessly transition between smartphone, tablet, and PC. Mark Shuttleworth of Canonical seems to feel this way too. He said that "When Apple announced the iPhone 5s, it called the processor "desktop-class," and I don't think that was an accident -- it was sending what we think is a very clear signal that it will converge the iPhone and the MacBook Air." This is why the A7 in the iPhone and the new iPads might be leading into a larger long-term plan.
The second is the iBeacon and its use for mobile-commerce. Some were disappointed that the new iPhones didn't have NFC technology integrated into them, but Apple seems to be betting (along with PayPal) on Bluetooth Low Energy, or BLE, for its m-commerce solution of the future. BLE was specifically designed to consume smaller amounts of energy to conserve smartphone battery life, which makes it more practical than NFC, and can be used to transmit data between devices and sensors embedded in physical locations. Besides just m-commerce, the iBeacon may also be setting Apple up to take advantage of the Internet of Everything as well.
Diversifying with new revenue streams
While Apple is primarily known as a hardware company, its iTunes software is an instrumental part of its ecosystem. It also grew by 22%, producing $15 billion in sales for Apple's recently ended fiscal year.
There are about 575 million iTunes users around the world, and Apple is looking to transition many of these users to its newly launched iTunes Radio service. Touted as a "Pandora (NYSE:P) Killer", iTunes Radio grabbed 20 million users in its first five weeks, according to Apple.
Pew Research Center says that an estimated 38% of American listen to audio on digital devices weekly, and this is a number that the firm estimates will double by 2015. The money to be made from this will come from advertising, which Apple should find lucrative once it opens up to ad partners.
In August, the company seemed to have already attracted some big brand name companies for ads-- including Pepsi (NYSE:PEP) and Coca-Cola (NYSE:KO)-- who will have ads running starting in January of 2014. While iTunes Radio revenues will likely be just a small drop in a vast ocean that is Apple's overall sales, its a nice revenue stream to set up for the future. It also adds some more "stickiness" to the overall Apple ecosystem, which is one of the main assets that separates Apple from the average hardware company.
The bottom line
As someone who likes to look at worse-case scenarios, the worst I see for Apple going forward is a range-bound purgatory-- one where I can collect a sustainable, safe, and rapidly increasing stream of dividends. That's not so bad for a worse case scenario, and bond-like stocks serve a purpose in any portfolio.
That's the worst-case scenario, but realistically I think Apple has room to run. Apple has a lot of exciting possibilities opening up for the future, and it also has a lot of potential for continued growth. Maybe not as much as Google (NASDAQ:GOOG) or other high-growth stocks, but definitely enough to command a higher multiple. Especially if and when it gets a deal done with China Mobile. Now looks like a good time to start accumulating shares of Apple.
Disclosure: I am long MSFT, KO. I wrote this article myself, and it expresses my own opinions. I am not receiving compensation for it (other than from Seeking Alpha). I have no business relationship with any company whose stock is mentioned in this article.
Additional disclosure: I may initiate a long position in AAPL over the next 72 hours.