So your broker has convinced you that you need exposure to gold and other metals like Silver or Platinum. Usually these recommendations fall anywhere from 5-20% of a portfolio (20% would be very high for a retiree). At the moment you are probably not very pleased with the results. At Soreide Law Group, we have found that some retirees have portfolios consisting entirely of metals because of a negligent stock broker. If you find that the combination of mining companies your broker invested you in and the actual metal funds you own exceed these typical portfolio percentage levels then you may have a broker who is being negligent and overly speculative with your portfolio.
A bit about the miners: It is incorrect for your broker to say junior gold miners or other miners simply track the cost of the metals they mine. There is operational risk, increasing fuel costs, problems with foreign governments, and more. There was a time that they were higher in price even though there were lower gold prices because the cost per ounce to get the gold out of the ground has been trending up on average.
You may be entitled to damages against your brokerage firm if you have $50,000 or more in losses due to metals related asset declines. Please call Soreide Law Group at 1-800-760-6552 for a free consultation to see if you have a potential case. No fee if no recovery, representing clients Nationwide USA or international investors who invested in the USA through a broker's recommendation.
GDX Gold Miners ETF down from about 65 to 27.39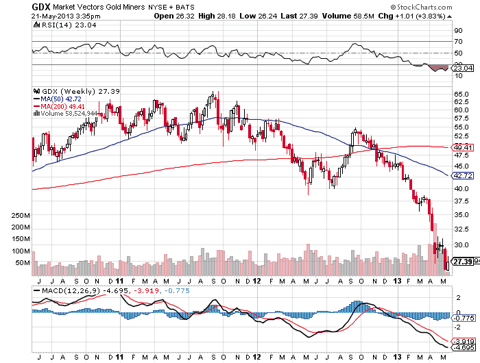 GDXJ Junior miners are even lower quality miners that carry more risk: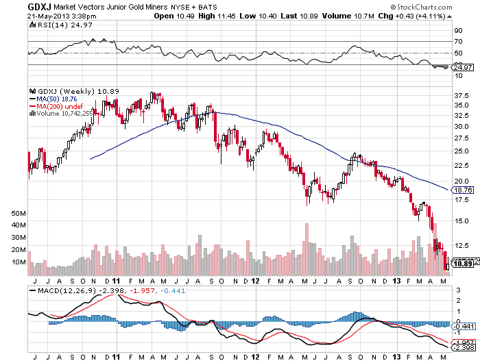 GLD As you can see from the chart below about 185 to 132 is not exactly as good as having cash in the bank, which is how GLD can be fraudulently pitched to retirees.
ANV
AEM
MFN
AZK
NXG
BVN
NSU
GSS
GORO