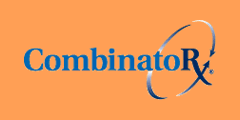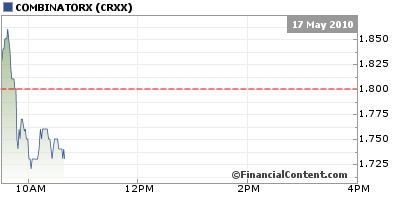 CombinatoRx reported quarterly earnings and gave updates concerning their product pipeline and on their commercial partnership with Covidien. The partnership has resulted in the launch of Exalgo™ (hydromorphone HCl) extended-release tablets, (NYSE:
CII
), the only extended-release hydromorphone treatment available in the United States. Exalgo provides opioid-tolerant patients suffering from moderate-to-severe chronic pain, relief for 24 hours per dose. CombinatoRx is eligible to receive tiered royalties on net sales of Exalgo by Covidien.
The Company was published in BLOOD, The Journal of the American Society of Hematology, and highlighted at the American Association for Cancer Research 2010 annual meeting for its work in combining (in preclinical studies) A2A Agonist and PDE Inhibitors as a potential adjunctive therapy in the treatment of multiple myeloma and other B-cell malignancies. This discovered drug combination has been cited by The Company as having the potential to be further evaluated as a potential clinical candidate for development and eventual market introduction.
CombinatoRx has also entered into a pilot discovery research collaboration with Amgen in which they have licensed access to The Company's cHTS drug discovery platform for a limited period of nine months with the option of extending the term and scope of the collaboration beyond the third quarter of 2010. CombinatoRx has received a license fee for this trial period. This collaboration represents a step towards the stated 2010 goal of continuing to seek additional revenue-generating research and technology collaborations. Additionally, The Company also made preclinical progress with the Ion Channel drug discovery and development program, as their research team in Vancouver presented key data reinforcing CombinatoRx's leadership position in the identification of novel ion channel blockers aimed at selected pain targets. At the Spring Pain Research Conference on April 21st in a presentation entitled "A Novel Small Organic Compound Attenuates Neuropathic Pain by Stabilizing the Slow Inactivated State of Sodium and Calcium Channels," Michael Hildebrand, Ph.D., described the successful reversal of neuropathic pain in preclinical models with a proprietary, novel ion channel blocker candidate.
Some selected financial highlights include:
Cash, cash equivalents, restricted cash and short-term investments of $55.3 million compared to $25.9 million on December 31, 2009. Total revenue was $41.3 million in the first quarter of 2010 compared to $2.6 million reported in the first quarter of 2009.
 

Revenue increased from the first quarter of 2009 to the first quarter of 2010 due to a $40.0 million milestone payment from Covidien related to the FDA approval of Exalgo on March 1, 2010.

Net loss from continuing operations for the quarter ended March 31, 2010 was $3.1 million, or ($0.05) per share, as compared to $8.5 million, or ($0.24) per share, in the first quarter of 2009. The first quarter of 2010 included a one-time, non-cash charge of $29.3 million related to the settlement of the contingent consideration issued in the Neuromed merger.
 
Disclosure:
no positions