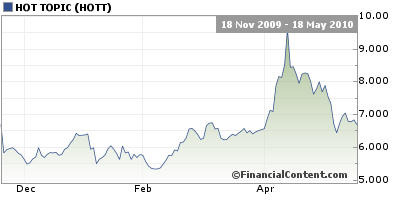 Hot Topic offers music/pop culture-licensed and music/pop culture-influenced apparel, accessories, and music and gift items for young men and women principally between the ages of 12 and 22. Torrid offers apparel, lingerie, shoes and accessories designed for various lifestyles for plus-size females principally between the ages of 15 and 29. ShockHound is a genre-spanning music website where people of all ages can purchase MP3s and music merchandise, share their music interests, read the latest music news and view exclusive editorial content. As of May 1, 2010, the company operated 681 Hot Topic stores in all 50 states and Puerto Rico, 156 Torrid stores, and their accompanying internet stores.
Financial Highlights for the First Quarter 2010 Include:
Total sales for the first quarter of fiscal 2010 decreased 7.1% to $162.6M compared to $175.1M for the first quarter 2009. Total company comparable store sales decreased 8.7% for the first quarter of fiscal 2010.
Net loss for the first quarter fiscal 2010 was ($1.8M), or ($0.04) per diluted share, compared to net income of $1.2M, or $0.03 per diluted share, for the comparable period last year. The results include a loss per share of ($0.02) related to the ShockHound division.
Second quarter guidance was issues as being a loss per share in the range of ($0.07) to ($0.10), as compared to a loss per share of ($0.07) last year. This guidance is based upon a comparable same stores sales decline in the low-single-digit percentage range. 


Disclosure:
no positions