The ETF, created by the Texas Legislature at the urging of Governor Rick Perry, provides Texas with an unparalleled advantage by expediting the development and commercialization of new technologies, to recruit the best research talent in the world and create economic growth and stability. Matching and commercialization funds coupled with additional federal and outside investments mean new technology is emerging in Texas.

The Emerging Technology Fund was created by the Texas Legislature at the urging of Governor Rick Perry to provide the state with investments to foster, develop, and commercialize new technology companies, attracting talent and jobs to the region in the process. The fund offers research superiority awards, matching grant awards, and commercialization awards to applicants who demonstrate innovative case studies and are developing some variation of bio-chemical technology to research centers, universities, and organizations throughout Texas. Companies who have received these awards go on to achieve greater breakthroughs and financial traction; everything from public offerings, to venture capital, to outright buy-outs and clinical trial funding.

Arrowhead Research Corporation is a nanotechnology company commercializing new technologies in the areas of life sciences and electronics through the progress of its subsidiaries and investments. Currently, Arrowhead is focused primarily on its two majority owned subsidiaries; Unidym, a leader in carbon nanotube technology for electronic applications, and Calando, at the forefront of the clinical application of RNAi delivery technology.

Arrowhead also has minority investments in two privately held nanobiotech companies, one of which is Leonardo Biosystems. Leonardo is a drug delivery company built around technology developed by Dr. Mauro Ferrari, one of the world's best-known nano-science innovators and has a multi-stage delivery platform that has been shown in animal models to be highly effective in targeting delivery of siRNA and small molecule drugs.

The Texas ETF has made an early-stage investment in Leonardo, a new technology-based, private entrepreneurial entity that collaborates with public and private institutions of higher education in Texas. The fund has provided the company with $2.5M, and while Dr. Bruce Given, Leonardo's chief executive officer has not provided details with how the funds will be used, he did say "this award from the ETF allows us to keep this crucial technology in Texas, where we hope to develop it to its full potential."

Ultimately, Arrowhead benefits from this milestone as well. By providing strategic management, financing, and operational services to its subsidiaries, Arrowhead takes an active role in their development, allowing the business and technical development teams at the subsidiary companies to remain focused on near term revenue opportunities and capital efficiency. Arrowhead's ultimate goal is to monetize the value of its subsidiaries through an initial public offering of subsidiary stock or a sale of a subsidiary to another company or could retain ownership of its subsidiary to capture its continuing cash flow and income.

Currently, Arrowhead owns about 6.13% of the outstanding shares of Leonardo; about 70% of the outstanding shares of Calando Pharmaceuticals, Inc.; about 80% of the outstanding shares of Unidym, Inc.; a minority interest in Agonn Systems, a nanotech based energy device maker; and a minority interest in Nanotope, Inc., an advanced nanomaterials developer for the treatment of spinal cord injuries and would healing.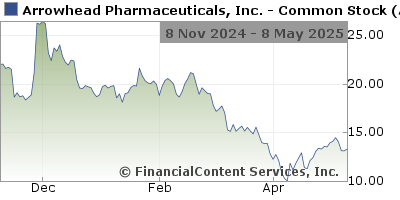 To view this article at World Market Media click on the link below: http://www.worldmarketmedia.com/779/section.aspx/1764/post/arrowhead-research-corporation-nasdaq-arwr-107m-marketcap-receives-grant-from-the-state-of-texas
Disclosure:
no positions