As reported earlier in the 3 Pre-Lunch Market Movers piece, Motorcar Parts of America Inc. (NASDAQ: MPAA) is trading up for the day after reporting strong fiscal 2010 4th quarter/ year-end results this morning. The company is a remanufacturer of alternators and starters utilized in imported and domestic passenger vehicles, light trucks, and heavy duty applications. It sells its products to automotive retail outlets and the professional repair market throughout the United States and Canada. Its fiscal results for its year ended March 31, 2010 reflect record 4th quarter and full-year sales and a significant jump in net income for fiscal 2010.
Financial Highlights include:
Gross profit for the fiscal 2010 4th quarter was $12.5 million (or 32% gross margin), compared with $6 million (or 20% gross margin) for the same period a year ago. For fiscal 2010, it was $41.3 million (28% gross margin), compared with $39.5 million (29% gross margin) in 2009.

Operating income for the2010 quarter was $4.8 million, from an operation loss of $680,000 in the same period a year ago.

Net income for the fiscal 2010 4th quarter was $2.9 million, compared with a net loss of $1.2 million for the period a year earlier. For the whole fiscal 2010, the company's net income climbed to $9.6 million, compared with $3.9 million a year ago.
The company had estimated the revenue to only be $34.6 million, beating revenue consensus by 11.62% with its actual results. Also, EPS was estimated to only be 15 cents/ share, so the reporting of its 24 cents/ share is very promising. Motorcar Parts' shares have soared today due to this good news, currently trading at $6.80, up $.5199 or 8.28%.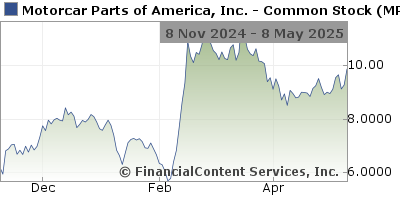 Selwyn Joffe, Chairman, President, and CEO of Motorcar Parts, noted that "our performance for the quarter validates our belief that as we continue to grow market share, operating performance is enhanced with very little incremental expenditure. As we enter a new fiscal year, operating leverage and increased usage of available production capacity continue to be important strategic components of the company's year-over-year growth plans -- supported by organic sales increases and acquisitions at appropriate valuations."
To view this article at World Market Media click on the link below: http://www.worldmarketmedia.com/779/section.aspx/1827/post/motorcar-parts-of-america-inc-nasdaq-mpaa-82m-marketcap-reports-record-breaking-fiscal-2010-results
Disclosure:
no positions