Research Frontiers Incorporated (NASDAQ: REFR) is the developer and licensor of suspended particle device (SPD)-Smart ™ light-control technology used in VaryFast ™ SPD-Smart controllable glass and plastic products. The company is currently trading at $4.13, up $.43 or 11.62%. Currently 37 companies are licensed to use Research Frontiers' patented SPD light-control technology in emulsions, films, or end-products. Furthermore, its SPD technology is covered by over 500 patents and patent applications held by the company worldwide. The SPD technology, made possible by a flexible light-control film invented and patented by Research Frontiers, allows the user to instantly, precisely, and uniformly control the shading of glass or plastic, either manually or automatically. Benefits include dynamic control of light, glare, and heat passing through many types of glazings, noise reduction, greater security, and the protections of interiors and occupants from heat and harmful ultraviolet radiation. This patented film can be used to transform into "smart" products a variety of products used every day in homes, buildings, cars, aircraft, boats, trains, and motorcoaches.
Last Thursday at its Annual Meeting of Stockholders, the company demonstrated new benchmarks of performance for the smart glass industry, and invited all industry participants to contribute products and provide data for side-by-side public evaluations and comparisons. These products used SPD-Smart light-control film manufactured by Hitachi Chemical Company, LTD. under license from Research Frontiers. Hitachi Chemical boasts the world's largest known production capacity of any smart window technology, and even custom-made large SPD- Smart architectural windows can typically be delivered to customers within 3-4 weeks.

Several important performance characteristics discussed when comparing other smart window technologies with SPD include:
-          SPD-Smart products can be used on both glass and plastic windows and shades. The others use electrochromic technology, which only enable effective use on glass.
-          SPD-Smart windows switch from a very dark state to an optically clear state in 1-3 seconds. This is 15-20 times faster than the reported switching speed for electrochromic window shades currently offered or under development in the aircraft industry, and more than 300 times faster than the 10 minutes or more that even relatively small electrochromic windows for the architectural market are known to require switching.
-          SPD-Smart windows allow more precise light-control by enabling the user to select an infinite number of intermediate levels of tint from extremely dark to clear, and with an impressive dynamic range of light control and the highest contrast ratios reported for any smart window technology.
-          Independent tests show that SPD-Smart windows can block up to 94% of solar heat gain, which is higher heat blockage than the best reported double glazed window using any other smart glass technology, and over 5 times more heat blockage than that managed by a typical energy-efficient double glazed window.
Research Frontiers and its licensees have the most experience with variable light transmission aircraft window shades as well. The first SPD-equipped aircraft window shades were installed by InspecTech in 2001 and are still in service, in contrast to the first reported installation of EC dimmable windows by PPG in late 2009. Today, InspecTech's SPD-Smart aerospace window shades are currently flying on 24 different aircraft models (both airplanes and helicopters). Current product applications for SPD technology include: SPD-Smart windows, sunshades, skylights, atria, curtainwalls and interior partitions for homes and buildings; automotive windows, sunroofs, roof systems, sunvisors and sunshades; and aircraft and marine windows and window shades. Potential future applications include: eyewear products including sunglasses, ski goggles and motorcycle helmets, mirrors; flat panel displays for electronic products; and light-control filters for various industrial and consumer applications.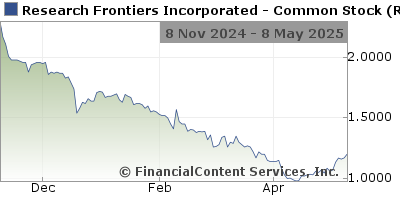 To view this article at World Market Media click on the link below: http://www.worldmarketmedia.com/779/section.aspx/1891/post/research-frontiers-incorporated-nasdaq-refr-70m-marketcap
Disclosure:
no positions