Craftmade International, Inc. is engaged in the design, manufacturing, distribution, and marketing of a broad range of home décor products, including proprietary ceiling fans, lighting products, and outdoor furniture. The company distributes its premium products through a network of independent showrooms and mass retail customers through its headquarters and distribution facility in Coppell, Texas. The company is currently trading at $6.45, up $1.25 or 24%.
On May 14th, the company released its fiscal 3rd quarter 2010 results. Financial highlights from this release included:
-          Net income for the third quarter increased by $629,000 to $494,000, as compared to a net loss of $135,000 for the third quarter of 2009.
-          Net sales for the quarter increased $4,085,000, or 8%, to $56,085,000, compared to $52,000,000 reported in the same quarterly period last year.
-          Excluding approximately $503,000 related to the unsolicited hostile tender offer, we were able to reduce overall expenses by almost 17% compared to the same quarter a year ago.
This unsolicited hostile tender offer that caused expenses to significantly rise has been going on between Craftmade and Litex since January. Litex made an unsolicited offer in January to acquire Craftmade for $3.25 per share. At that time, Litex created a lot of distraction by stating that it was buying Craftmade when there was no such agreement. Seven weeks after that announcement, Litex launched a hostile tender offer to acquire shares for $5.25 per share, which was rejected by a vast majority of Craftmade's stockholders. Not having reached an agreement, Litex proceeded to make a verbal offer to the company to purchase the stock at $7.50 per share.
Most recently, on June 21, 2010, Craftmade received a letter from Litex with an unsolicited proposal to acquire Craftmade at a price of $8.00 per share.  Once again, Craftmade did not receive a form of acquisition agreement, or any indication of acceptance of basic confidentiality agreement terms. Craftmade countered this offer with 2 terms including (i) Litex being prepared to pay $8.75 per share for Craftmade's stock and (ii) signing a proposed confidentiality agreement, all of which Litex rejected.
Since that time, Craftmade understands that Litex has purchased shares from a stockholder at $7.50 per share in a non-public transaction, to bring Litex's ownership of Craftmade to a little under 15%. They've also been told that Litex has discussed purchasing shares from some of you at prices as high as $8.75 per share (the same price Litex said it was not willing to pay all stockholders).
On June 23rd, the company sent a letter to its stockholders commenting on recent developments relating to Litex Industries, Limited. The letter describes this most recent unsolicited and highly conditional proposal by Litex to acquire Craftmade.  Craftmade is experiencing improved business results that give us optimism for the coming year.  Its past two quarters have shown significant improvement over last year, and in its most recent fiscal quarter ended March 31, 2010, Craftmade achieved its best financial performance in almost three years, excluding expenses related to the Litex tender offer.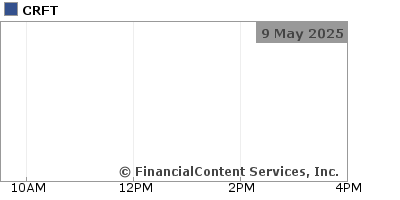 To view this article at World Market Media click on the link below: http://www.worldmarketmedia.com/779/section.aspx/1943/post/craftmade-international-inc-pinksheets-crft-37m-marketcap-24
Disclosure:
no positionis