Is Gold about to BOOM?
By Ron Jaenisch
For the last year the price of Gold has been going down. I December of 2013 on two occasions it even made new lows for the year. But if we take a closer look at the price action, utilizing the tools that Alan Hall Andrews taught we can have quite I bit of insight.
In the daily chart the "Pitchfork" consisting of the median line and the two parallels is drawn.
(click to enlarge)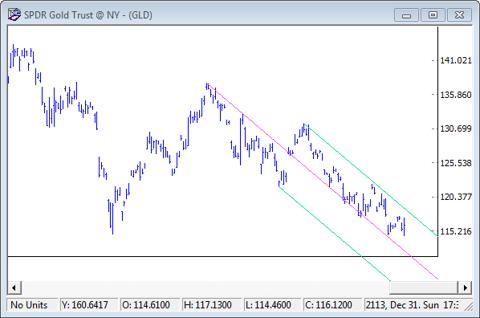 Click to enlarge
As you look at the chart you can see that as prices went down towards the new lows set in December, they at first went further and further past the red median line. Then after prices made new lows for the year nearly two weeks ago they went within a hair of making it to the median line and reversed. On the last day of 2013, seen on the chart, they went in the direction of the median line again and did not get very close at all. This believe it or not is considered bullish.
On a weekly chart the examination takes place with the Babson profit ladder.
(click to enlarge)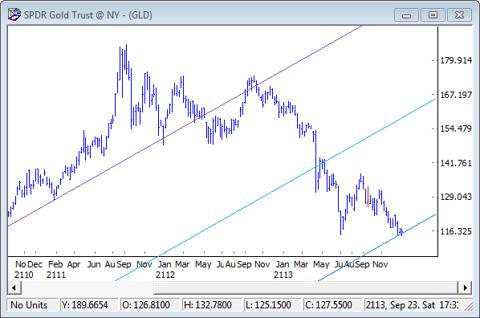 Click to enlarge
As you can see on the weekly Gold chart prices use these Babson lines for support and resistance. At this time they are at one of these lines, where support is typical.
So what is next?
(click to enlarge)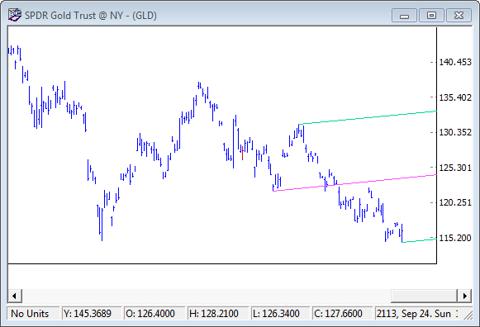 Click to enlarge
The daily chart with the Andrews Pitchfork drawn towards the future, is sloped ever so slightly upward. The next target area is the red median line. The next time period to watch after the middle of the month of January 2014. If prices can firmly stay above the Median line during the end of the month there may be the start of a rally. The author has written the Andrews Advanced Course for serious traders along with several Ebooks for hobbiests available at innovativegeometry.com
Disclosure: I have no positions in any stocks mentioned, and no plans to initiate any positions within the next 72 hours.