Please visit my blog for the legal disclaimer, videos and presentations:
http://kirillklip.blogspot.co.uk/2014/07/tnr-gold-los-azules-copper-chinese-m.html#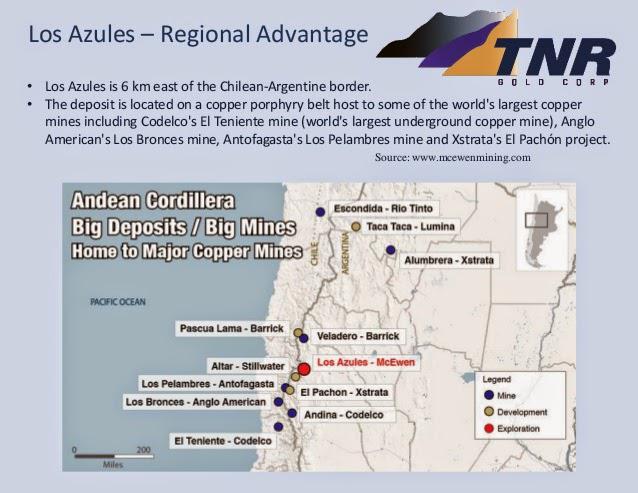 Frik Els provides a very good insight into the Chinese deal culture and mining M&A particularly. Las Bambas deal is not only the very good indicator of the turning mining cycle, but also provides guidance for the smaller companies in China to go on The Hunt For Copper and other commodities. You can witness this approach in our particular case of Strategic Commodities with International Lithium and Ganfeng Lithium as well.
"John Gravelle, PwC partner and global mining leader says the Chinese takeover of Las Bambas is a sign of things to come.
Companies further down the scale will also be impacted by the the "Las Bambas effect", Gravelle told MINING.com in Vancouver at the presentation of the consulting firm's 2014 global trends report.
"The size of the deal reflects Chinese belief in copper. And China's smaller and private mining operations take their guidance from the large state-owned enterprises," said Gravelle.
The National Development and Reform Commission, China's powerful economic planning agency, in May put into effect a new regime to govern overseas investment, making it much easier for domestic companies to make acquisitions and set up joint ventures abroad.
The so-called Order 9 scraps the approval process for deals worth less than $1 billion entirely, replacing it with a simple registration process, eases forex requirements and cuts out much of the bureaucracy. Mining.com."
There are already reports from Chile that rumours about Barrick Gold talking to Chinese companies to develop Pascua Lama actually are very close to the reality. And we already know the Chinese negotiating tactics: Las Bambas deal was on and off quite for a few times before it was sold finally. IKN reports:
"Today we have this, from Chile's respected bizmedia Diario Financiero. Here's a translation of the relevant bit for our purposes, but there's plenty more about other aspects of Pascua Lama in the note (underline/bold type added):
The New Partner
However, the decision on whether the continue with the project also depends on other factors. One of those is containing project costs, that had risen previous to the stoppage to U$8.5Bn, although the industry says that when Barrick stopped all construction at the end of October internally they were talking about U$10Bn.
Under this scenario, when at the same time the mining industry in Canada is not going through a strong financial period, the figure of a new partner to help pay for the investment seems necessary and even more so when the current problematic environmental backdrop could make debt financing difficult.
Sources close to the company say that after several months of parallel negotiation with two Chinese investment partners, Barrick has not managed to close an agreement with either.
continues here
Yes, that's the same thing IKN has been telling you about since February. The main problem isn't the terms of the deal between ABX and Citic, it's the way the Chiense want a clear run at development once the deal is signed. That means Chile the country getting its house in order with ABX first so once the project has permitting green lights, the money will become available (in exchange for a large chunk of the project, of course). IKN."
This is very encouraging news for us at TNR Gold and today's CNBC reports about recovery of Chinese economy is making our case for Los Azules even more stronger:
China HSBC June final PMI at 50.7, official PMI at 51
"China's manufacturing activity rebounded further in June, government data showed on Tuesday.
The official Purchasing Managers' Index (PMI) came in at 51, in line with a forecast from Reuters and above the 50.8 reading in May.
Separately, HSBC said the final reading of its China PMI stood at 50.7 in June compared with a flash estimate of 50.8. CNBC."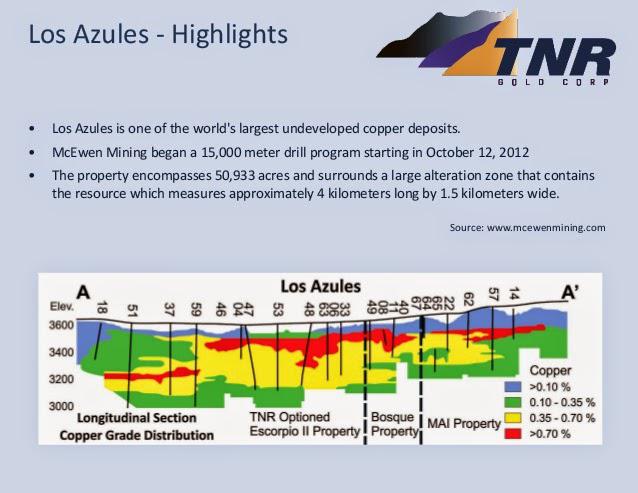 TNR Gold Los Azules Back-In Right: Multi-Year Global Copper Market Outlook
"Lumina Copper buyout by First Quantum Minerals has already re-rated valuations in the mining sector of Argentina and this pick up in M&A activity will signify the major bottom in this mining cycle, as we have discussed before. It is very important that money is coming in the large CAPEX Copper project particularly in Argentina, where our Los Azules Copper project is located. I hope to share with you industry research reports on Los Azules copper in the nearest future - this activity should awaken the sleeping analysts. We are working with PI Financial on the Sale of our Back-In Right and below you can find the big picture view on Copper provided by Derek Hamil in his very well researched article. Read more."
"The sale of our Back-in Right will provide the necessary liquidity and catalyst to all of our group of companies. Rob McEwen has done a great job as Operator developing this project and now Los Azules is at the top of the list of the best copper projects in the world available for sale, according to PI Financial! I would recommend to contact Jim Mustard VP at PI Financial to get more information about Los Azules Copper project and our Back-In Right Asset."
TNR Gold Investor Presentation March 2014 from Kirill Klip
TNR Gold: Los Azules Copper And M&A in Argentina - First Quantum Minerals to Acquire Lumina Copper For $470 Million.
Mining.com:
Chinese M&A: Watch out for Las Bambas effect.
Erik Els
"A view of the world and a strategy to extend influence that befits a country that calls itself the Middle Kingdom is beginning to take shape.
After many stumbles and burnt fingers abroad, China's state-directed foreign M&A strategy appears to be entering a new phase.
It's beginning to look as if Chinese authorities carefully engineered the takeover of Glencore's flagship Las Bambas copper project over two years.
Glencore and Xstrata first announced a merger February 2012 and after much shareholder wrangling and jumping through regulatory hoops China was the last country to approve the deal - a full 14 months later.
There was one, pretty specific, proviso.
Glencore must give up Las Bambas. Or something of equivalent significance for future global copper supply (nothing springs to mind).
The Swiss-based firm had already lavished $4 billion on the Peruvian mine and China took its sweet time to ink a deal. Mining.com"
Disclosure: The author is long TRRXF, ILHMF.