Please visit my blog for the legal disclaimer, videos and presentations:
http://kirillklip.blogspot.co.uk/2014/07/copper-m-in-latin-america-tnr-gold-and.html#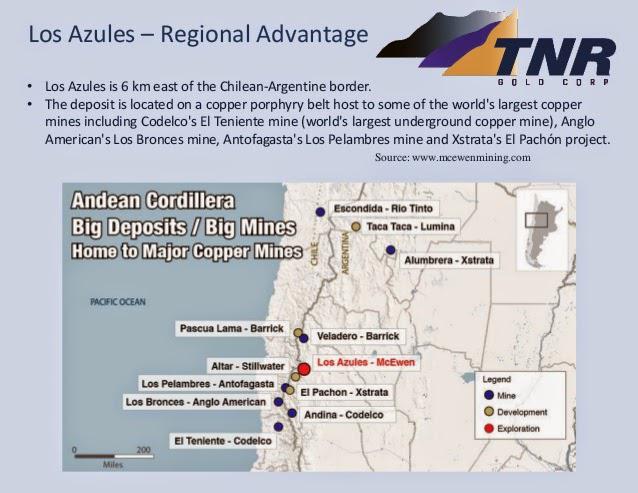 We have the great news from McEwen Mining, you can Google for the whole news release. Before the value for Los Azules was based on the acquisition price paid by US Gold for Minera Andes. After the collapse in Gold prices and Argentina troubled couple of years this accounting value has became the wishful history. Now based on the valuations of Taca Taca in First Quantum Minerals takeover of Lumina Copper McEwen Mining will make the conservative accounting valuation of Los Azules. You will have to make your own numbers or contact Jim Mustard at PI Financial, who is acting on behalf of TNR Gold.
McEwen Mining:
"We are conducting an impairment test of our Los Azules project in Argentina as a result of the recently announced acquisition of Lumina Copper Corp. by First Quantum Minerals Ltd., for approximately C$470 million. Lumina's only significant asset is the Taca Taca copper project located in Salta, Argentina. While there are some notable differences between Taca Taca and Los Azules, we believe the similarities in project scale and location within Argentina warrant consideration for the Lumina transaction to be a triggering event for impairment analysis. Our preliminary analysis, which places a substantial weighting on the announcement day value of the Lumina transaction to value Los Azules, indicates a pre-tax asset impairment charge in the range of approximately $90-135 million(1). The actual amount, when we have completed the final impairment assessment, will be reported in our quarterly 10-Q which is due to be filed on August 7, 2014.
"With First Quantum acquiring Lumina Copper and their Taca Taca project, Los Azules moves to the forefront in terms of world-class, undeveloped, high-grade copper assets not owned by a major mining company. As we have said in the past, Taca Taca serves as a good proxy for the value of Los Azules and we believe this transaction demonstrates value in projects located in Argentina", said Rob McEwen, Chief Owner, Chairman and CEO.
(1) This is a preliminary estimate range and the impairment testing work, both internally and in collaboration with our external valuation consultants is ongoing, including with respect to various underlying assumptions and comparable transaction analysis. We note that the Lumina/First Quantum transaction is not scheduled to close until approximately August 30, 2014. As of March 31, 2014, we carried the Los Azules project at a pre-tax net book value of approximately $431 million."
Mining M&A in Latin America, China And Prospects For Copper Supply.
"Chile, Indonesia, USA, Australia and Canada together account for 80% of the world's copper supply, and with the revived interest in the metal, many national companies are now making headlines with plans of acting to relieve demand pressures and ease supply shortfalls, signalling the potential turnaround and the major bottom in this mining cycle anticipated in the copper market. Read more."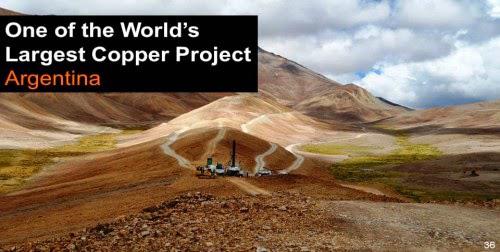 All slides in this part of the post are from McEwen Mining presentations.
Please Note that TNR Gold Qualified Person - as it is defined by NI 43-101, was NOT able to Verify and Confirm Any Provided Information by The Third Parties; you must NOT rely in any sense on any of this information in order to make any Resource or Value Calculation, or attribute any particular Value or Price Target to any Discussed Securities.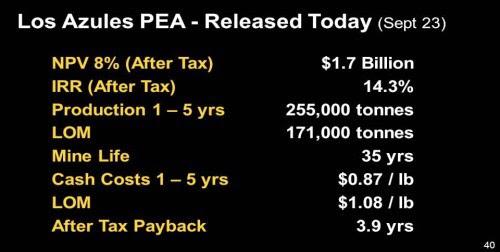 Please find more information on TNR Gold website.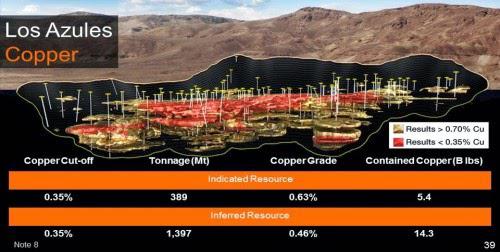 End of slides from McEwen Mining presentations.
Mining M&A: China's Top Gold Firm Talking To Barrick And Friedland As Copper Rallies.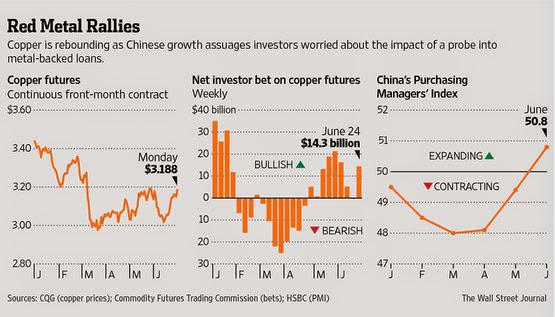 As we have discussed before, we have really Hot Winter In Argentina for mining M&A. Now Frik Els confirms "China's Top Gold Firm Talking to Barrick Gold, Has Friedland "hotline":
"China's largest gold mining company, China National Gold, is officially setting up shop in junior mining hub Vancouver this week as part of a push into new markets and its global acquisition strategy.

President Xin Song told the Wall Street Journal ahead of Wednesday's event, the Beijing-based firm is on the hunt for global acquisitions and partnerships in gold, silver and copper:

"The growing strategy is very clear, we are going out looking at things globally. On our hands we have a few opportunities, at different stages."

Song, who also chairs the China Gold Association, has not ruled out acquisitions in developed countries, such as Canada, Australia and the US, but the main focus of its expansion strategy is assets in the region including in Mongolia, Russia and countries in central Asia.

Investments in "politically stable" countries in Latin America and Africa are also being considered Song said. Mining.com"
TNR Gold Los Azules Copper: Chinese M&A - Watch Out For Las Bambas Effect.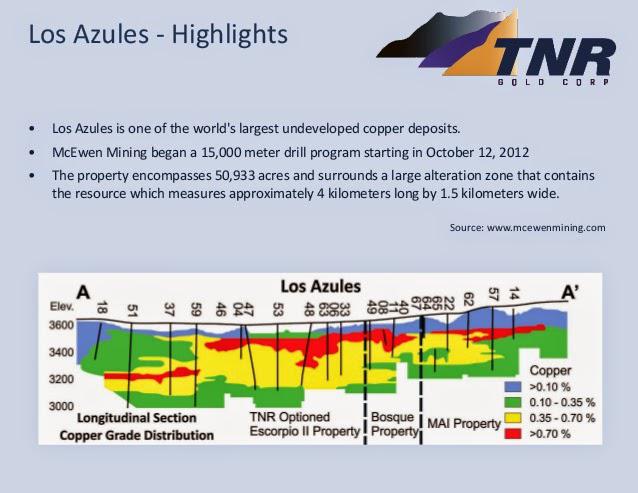 "Frik Els provides a very good insight into the Chinese deal culture and mining M&A particularly. Las Bambas deal is not only the very good indicator of the turning mining cycle, but also provides guidance for the smaller companies in China to go on The Hunt For Copper and other commodities. You can witness this approach in our particular case of Strategic Commodities with International Lithium and Ganfeng Lithium as well. Read more."
TNR Gold Investor Presentation March 2014 from Kirill Klip
TNR Gold: Los Azules Copper And M&A in Argentina - First Quantum Minerals to Acquire Lumina Copper For $470 Million.
Disclosure: The author is long TRRXF, ILHMF, MUX.