Please visit my blog for the legal disclaimer, videos and presentations:
TNR Gold Los Azules Copper M&A: Global Copper Deficit May Support Prices - Morgan Stanley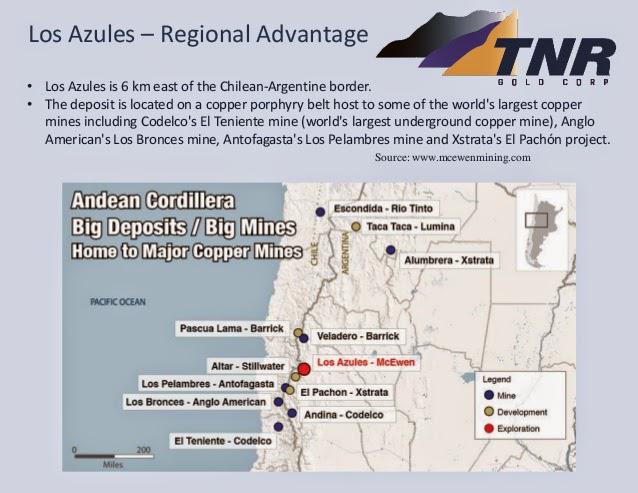 Copper M&A in Latin America, TNR Gold And McEwen Mining With Los Azules Copper.
"We have the great news from McEwen Mining, you can Google for the whole news release. Before the value for Los Azules was based on the acquisition price paid by US Gold for Minera Andes. After the collapse in Gold prices and Argentina troubled couple of years this accounting value has became the wishful history. Now based on the valuations of Taca Taca in First Quantum Minerals takeover of Lumina Copper McEwen Mining will make the conservative accounting valuation of Los Azules. Normally the selling price for the assets is above such an assessment. You will have to make your own numbers or contact Jim Mustard at PI Financial, who is acting on behalf of TNR Gold. Read more."
TNR Gold Investor Presentation March 2014 from Kirill Klip
TNR Gold Corp. Comments on Recent News by McEwen Mining on the Los Azules Copper Project, Argentina.
"In their press release dated 17 July 2014 Rob McEwen states, "With First Quantum acquiring Lumina Copper and their Taca Taca project, Los Azules moves to the forefront in terms of world-class, undeveloped, high-grade copper assets not owned by a major mining company. As we have said in the past, Taca Taca serves as a good proxy for the value of Los Azules and we believe this transaction demonstrates value in projects located in Argentina." The news release is available at SEDAR http://www.sedar.com and on the McEwen Mining website www.mcewenmining.com. TNR encourages its shareholders to read the press releases issued by McEwen Mining to gain a better understanding of the work performed and the potential impacts this will have on the project.
McEwen Mining's press releases appear to be prepared by Qualified Persons and the procedures, methodology and key assumptions disclosed therein are those adopted and consistently applied in the mining industry, but no Qualified Person engaged by TNR Gold Corp. has done sufficient work to analyze, interpret, classify or verify McEwen Mining's information to determine the current mineral reserve or resource or other information referred to in the press release. Accordingly, the reader is cautioned in placing any reliance on the disclosures therein.
"Los Azules is a unique, long-life, copper mining opportunity in Argentina. Recent acquisitions that include the Las Bambas copper mining project in Peru acquired by Minmetals Group from China and the Taca Taca copper deposit in Argentina acquired by First Quantum Minerals confirm there is significant value to be realized for projects in this region. We are pleased that large-scale, capital intensive projects like Los Azules are attracting attention from global mining companies, increasing our ability to monetize our portion of the asset. In our opinion, McEwen Mining's latest analysis provides a solid base value for the asset," commented Mr. Kirill Klip, Non-Executive Chairman of TNR. Read more."
Kitco:
Global Copper Deficit May Support Prices - Morgan Stanley
Monday August 25, 2014 8:15 AM
The global copper market is at its biggest deficit in seven years, says Morgan Stanley, citing data from the International Copper Study Group. The group says the copper deficit is 466,000 metric tons for the January-May timeframe, versus a 250,000 surplus in the same period of 2013, Morgan Stanley says, while adding its full-year forecast is for a 90,000 ton deficit. ICSG also showed global use was up 15% year-over-year, with strong demand out of China seen. "Given this wide supply shortfall, we remain comfortable with our forecast for deficit conditions this year and next, as well as progressively higher prices," Morgan Stanley says, also forecasting London Metal Exchange copper prices to average $7,165 a metric ton in the fourth quarter. Kitco."
Disclosure: The author is long TRRXF, MUX, ILHMF.