Halozyme Therapeutics, Inc., (NASDAQ:HALO) on 05/21/2014 announced that the U.S. Food and Drug Administration (FDA) has extended for the Prescription Drug User Fee Act (PDUFA) date for an additional three months for its review of the Biologics License Application (BLA) for HYQVIA [Immune Globulin Infusion 10% (Human) with Recombinant Human Hyaluronidase], the company's investigational subcutaneous treatment for patients with primary immunodeficiency (NASDAQ:PI).
HyQvia was approved by the European Commission for EU member states in 2013 and is available in several European countries, including Germany, Netherlands,Sweden, Norway, Denmark, Ireland and Italy. HyQvia is a product consisting of human normal immunoglobulin (IG 10%) and recombinant human hyaluronidase (licensed from Halozyme Therapeutics). The IG provides the therapeutic effect and the recombinant human hyaluronidase facilitates the dispersion and absorption of the IG administered subcutaneously, increasing its bioavailability. The IG is a 10% solution that is prepared from human plasma consisting of at least 98% IgG, which contains a broad spectrum of antibodies.
On Feb. 10, 2014 the company announced the public offering of 8,846,153 shares of common stock, including 1,153,846 shares sold pursuant to the underwriters' full exercise of their option to purchase additional shares, at a price to the public of $13.00 per share. Halozyme's net proceeds from this offering were expected to be approximately $107.8
Halozyne (HALO) was trading north of $18, a market cap of $2.2B and at high end of their 52-week range in January 2014; However, it has been now bottoming out around $8
Shortly after hitting new highs and a strong public offering in early 2014, HALO crashed sharply in April after the company received FDA letter placing a clinical hold on patient enrollment and dosing of PEGPH20 in an ongoing Phase 2 trial (Study 202) evaluating PEGPH20 in patients with pancreatic cancer. The company was asked to submit additional information relevant to the possible difference in the thromboembolic event rate between the patients treated with PEGPH20 versus the patients treated without PEGPH20 in the trial. Venous thromboembolism is a relatively common risk associated with pancreatic cancers, with so many different risk factors such as age, obesity, immobility, and Antiphospholipid Antibody Syndrome
As of May 12, 2014 HALO with its partner Baxter International (NYSE:BAX) have submitted supplemental data as part of the ongoing approval process. The Data Monitoring Committee, DMC, has recently expressed support for continuation of enrollment of patients and dosing of PEGPH20 in the trial with the proposed study protocol modifications. HALO has informed information to the U.S. Food and Drug Administration, so the FDA can conduct their assessment for the lifting of the clinical hold on the clinical trial enrollment of patients and dosing of PEGPH20 in the Phase 2 trial."
HALO and its partner Baxter International are expected to participate in the Blood Products Advisory Committee meeting scheduled for July 31, 2014.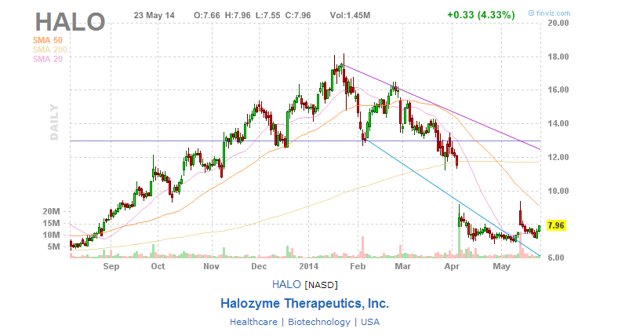 Disclosure: I am long HALO.
Additional disclosure: This article is intended for informational and entertainment use only, and should not be construed as investment advice. They are my opinions only, written by me and for myself. Please do your own due diligence before buying and selling any stock, and/or consult with a licensed financial adviser.