Seasonal weakness has effected the markets this year like most years. The pain typically starts in May and lasts most of the summer. Every year there are lots of doom and gloom headlines and many people crying about debt, corruption and government policy. Beginning on May 3rd this year you can see the US Investor Sentiment % Bearish indicator move up sharply from 28% to 42%
US Investor Sentiment Index of % Bearish.

An investor should try to ignore the noise and dig into information that matters to his or her investments. This kind of seasonality is a regular event and can become part of a larger investment strategy but patience is required. Cyclical weak sectors like energy and precious metals can be a good place to go shopping for great prices. In a hot defensive sector do not let a short term desire for something like a high yield effect your plan to get a great price for a stock. A portfolio well designed for income and growth should love the summer weakness season. Dividends are rarely effected and prices are better for buying and re-investing in many sectors.
Measuring seasonal weakness for an Investment Strategy
Measuring seasonal weakness with the indexes is a relative exercise that works best using a traditional defensive sector. With that in mind I want to look at the utility sector related to the S&P 500 as a whole. We could also use food, mid-stream MLP's or even the mREITs. All have held up well this year but the utilities hold up well every year.
A strong group of utilities can add some comfort and stability to a portfolio this time of year. I use Consolidated Edison (NYSE:ED), American Water States (NYSE:AWR) and a smaller regional electric company named CMS Energy (NYSE:CMS). ED and AWR have unblemished dividend history and CMS is doing a great job getting their business in order and growing. Since these three companies are near 52 week highs they have my attention. A shift or rotation in investor sentiment away from a defensive stance could signal substantial price declines from these elevated levels.
Let's look at this years defensive performance of these three companies (and XLU) during the seasonal weakness in the broad market. Chart from ycharts.com
From May 1st till now the S&P 500 has been weak showing a season loss of about 5% (bottom purple line). My small sample of utilities have performed very well, and so has the XLU. Sometimes issues, such as worker strikes, make the news but in the time frames I'm working with I pay little attention to that type of news. I do watch for the pace of regulation adjustment and the ability of a utility to structure it's product in real time with cost change. AWR has a recent approval for new cost of capital (read here) that locks in a return on equity of about 10% for a large subsidiary.
Let's step back and take a longer more broad look to try to understand the magnitude of seasonal performance related to utilities. This is a four year chart of the S&P 500 against the State Street Utility ETF (NYSEARCA:XLU). It's no surprise to me that the S&P index has outperformed Utilities (as represented by XLU) across the longer time frame.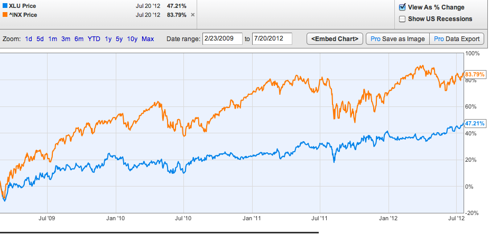 Look at the S&P 500 dips just before each July marker those dips are very consistent at the beginning of May each of the last four years.. July represents a nice point to start watching for money rotation back in to the broad market. The XLU has out performed the S&P during the summer dips since 2009:
| | | |
| --- | --- | --- |
| Weakness Starting May 1 | S&P Performance | XLU Performance |
| 2009 | -8% | +1% |
| 2010 | -21% | -8% |
| 2011 | -14% | +0% |
| 2012 | -17% | +2% |
These performance ranges are from May 1st each year to the summer low point put in by the S&P 500. The average seasonal outperformance gap of XLU (vs. S&P500) since 2009 has been 12.25%. This year the seasonality or market rotation drove the performance gap to 15% at the S&P low point on June 1st. It may grow more but for the purpose of this simple exercise I'm saying the seasonal advantage has ended. Since June 1 this year, the XLU and S&P 500 have had much more correlation than during May. A quick look at the top chart showing Investor Sentiment will show a peak in bearish feelings at the widest divergence between XLU and the S&P 500 near June 1. As the bearish sentiment drops the S&P should start to outperform the more defensive utilities. I would think that increasing bearish sentiment from this point on will effect utilities as well.
I hold my utilities with very little interest in selling them. I do re-invest the dividends unless they are needed for current income. July is a good time to move up stops in utilities or to sell them outright in favor of better value in another sector if an investor has an interest in trading.
ED, CMS and AWR have moved up strongly this summer and have recently shown weaker volumes at these higher prices. New capital that I have allocated to these utilities will wait for a better price for entry.
Disclosure: I am long ED, AWR, CMS.
Additional disclosure: Caution is advised in these markets. Investors participating should be prepared to bear loss. This article is for educational purposes only, it is not individual investment advice. Please consult a qualified professional who has specific knowledge of your investment needs and risk tolerance if you need advice.