There were some important economic releases lined up in the UK earlier during the London session, including the UK employment report and the Bank of England quarterly inflation report. Both these events impacted the British pound, as the GBPUSD pair collapsed more than 80 pips within an hour. The first in line was the UK Claimant count change, Average Earnings Index and the unemployment rate which were released by the National Statistics. The report was mixed, as there were 30.60 million people in work, 167,000 more than for January to March 2014 in April to June 2014. This was mostly in line with the expectation. The UK unemployment rate fell from 6.5% to 6.4% as forecasted. This is the lowest rate since late 2008. However, the disappointing part for the pay including bonuses figure. The forecast was of a 0.1% decline, but the report mentioned that the Average Earnings Index for employees was 0.2% lower than a year earlier.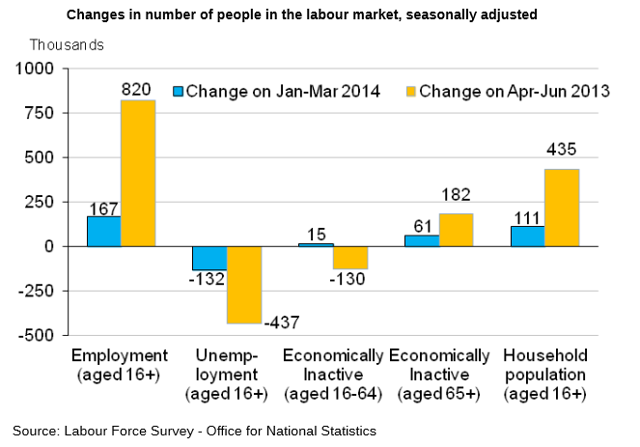 \
BOE Quarterly Inflation Report
The main reason for the fall in the British pound was the Bank of England quarterly inflation report. The market was expecting a hint regarding the interest rates. However, the investors were disappointed, as there was a slight shift in the BOE wording this time. They somehow hinted that this is not the right time for a rate increase. This did not go down well with the British pound buyers, as sellers took charge and crushed buyers. One of the main concerns of the BOE was the weakness in the wage growth. The report was definitely bearish for the pound, and the reaction was also obvious. The most affected pair was the GBPUSD which traded close to the 1.6700 level.
Technically, the GGBPUSD failed to break the 1.6840 barrier, which is also a pivot area. All technical levels aligned perfectly with the fundamentals. The GBPUSD pair dropped to 1.6700 support area after trading as high as 1.6840 level today. There is a huge bearish candle formed on the hourly chart, which points the fact that the bears are here to stay. On the upside, the 1.6760 level might act as a resistance now. If the pair manages to climb from the current levels, then buyers might struggle around the mentioned resistance area. On the downside, a major support can be seen around the 1.6680 level.