(click to enlarge)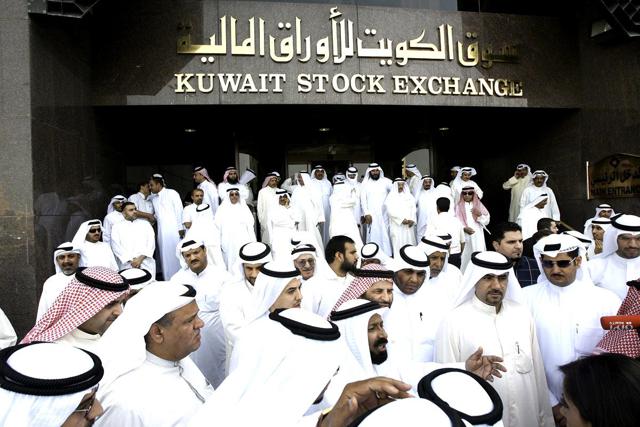 Click to enlarge
Kuwait's regulator suspended on Sunday the trading of shares of listed companies that did not submit their quarterly results. However, despite the action, two of three indices in the Kuwait stock market still posted gains.
The price index of the Kuwaiti Stock Exchange reached 7,266 points on Sunday, logging a gain of 31.9 points. The weighted index also gained 0.81 points, but the KSX 15 shed 2.61 points.
Financial analysts explain the gains to the market's ability to surpass the negative impact of the trading suspension due to the growing awareness of companies as well as many of the suspended shares were of low value anyway.
The trading suspension happens every three months, causing many traders to get used to this quarterly event and adapting to the situation, KUNA quoted Mohammad, a financial analyst and head of Al-Tarrah, the traders association.
Adnan Al-Dulaimi, another financial analyst, agreed that the market value of the suspended firms is small in comparison to leading companies that still could trade.
Analyst Al-Shammari added that most of the companies whose shares were suspended were the speculative ones that usually delay their submission of requirements to the regulator to take advantage of the grace period even if their quarterly reports have actually been prepared.
Also last week, Kuwait Food Co, the operator of fast food chain KFC and Pizza Hut, suspended the trading of their shares on the Kuwaiti Stock Exchange while holding talks with the Savola Group of Saudi Arabia. The two listed firms are discussing the sale of Kuwait Food stakes to Savola.
News of new investors boosted Kuwait Food shareprices by up to 3.2 percent - the highest since July 3. Before the suspension of trading of its shares, stocks of the food firm was trading 2.6 percent higher.
Savola, valued at $12 billion, confirmed to Bloomberg that it has inked a confidential agreement with Kuwait Food, also known as Americana, but the talks have not reached yet the fundamental development stage.
Besides running KFC and Pizza Hut restaurants, Americana also makes California Garden beans and Farm Frites frozen veggies.
Mandatory quarterly reports as well as suspension of trading while negotiations for a buy-in or sell-out are ongoing are some of the stock market issues that retail investors should be aware and learn as part of the investor education so they could make informed decisions.
One source of investor education is Red Bank, New Jersey-based investment education company InvestView (OTCQB: INVU).
InvestView, Inc. provides and delivers a comprehensive online program of investor education: proprietary investor search tools and trading indicators, weekly newsletters as well as access to live weekly Trading Rooms. It delivers subscription-based financial education courses through InvestView's web site. InvestView also allows new retail investors to use the portal's subscriber information on a 2-week trial period for $9.95.
The company does it through its online education, analysis and application platform that provides analysis, tools, education solutions and an application. InvestView's web-based tools were designed to simplify stock research and improve the investor's research efficiency. One such tool is the Market Point, which is made up of five sections, namely: Charts, Stock Watch, Market, Calendar and Campus.
InvestView offers five training courses that provide an incredible education in the stock market. The five InvestView courses build upon each other. Beginners should take them in the suggested sequence, while more seasoned traders may jump right into the more advanced topics that they are craving to better understand and give them the edge as a successful trader. Each course is offered via live webinar and as recorded on-demand videos that are immediately posted at the end of each webinar. For more information, please visit their web site.