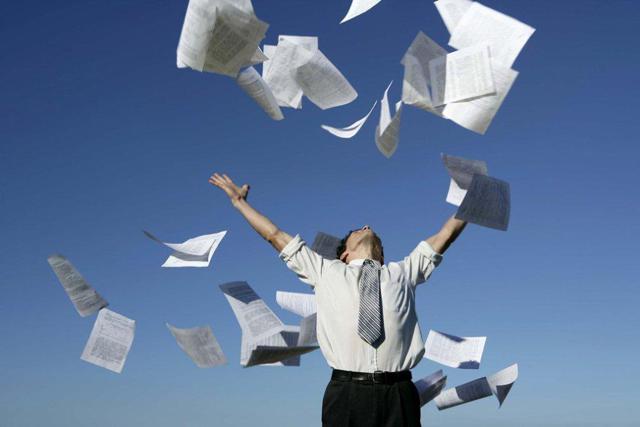 Paper is the thing of the past, even in the world of real estate where listings used to pile up in brokerage offices.
A new study showed that 61 percent of brokerages in the United States are now using management systems or softwares instead of doing things manually.
The REAL Trends survey defined such a system as "a web based end-to-end real estate negotiation and document management system that allows users to create, adjust, approve, sign, and share documents seamlessly, under one solution."
It found that the brokerages also projects 75 percent adoption of the system among their agents.
While transaction per agent for brokerages that use manual systems averaged about 9.2 a year, those who have utilized transaction solutions average 11.5 annually.
Increased agent efficiency was also reported in addition to simplicity of use, reduction of liability, and better customer experience.
"Only a year ago, our agents were driving all over town, using multiple systems, printing out contracts and faxing them back and forth to get a deal done," Craig McClelland COO of Metro Brokers, told REAL Trends. "This technology is now woven into our DNA as a Company and I can't imagine doing it any other way."
Bob Bill of REAL Trends said the technology is now changing the way brokers and agents work.
"In fact, we found brokerages that use a transaction system see 22 percent more closed transactions per agent than those that don't. The ease of the transaction, collaboration and efficiency increases the value of an agent to the home buying and selling process," he said.
Because brokerages and real estate companies are embracing digital materials more, even advertisements and listings are being made available online to the public.
RealBiz Media Group (OTC: RBIZ), for example, has been offering both video and virtual tour programs for brokers and agents.
Banking on the rising viewership of online videos, RealBiz allows its clients to have videos and virtual tours created from their own listing, photographs and videos.
The videos and virtual tours, which allow the potential buyer to view an accurate representation of the property without wasting time and money on travelling to the location, are then uploaded in RealBiz's or the agent's web sites.
RealBiz'sMVA and Nestbuilder Agent has been able to gather 15,350 subscribers just months after it was launched. It was also able to produce and upload 24,000 videos. The more popular virtual tour program, meanwhile, has 24,637 active agents using it.