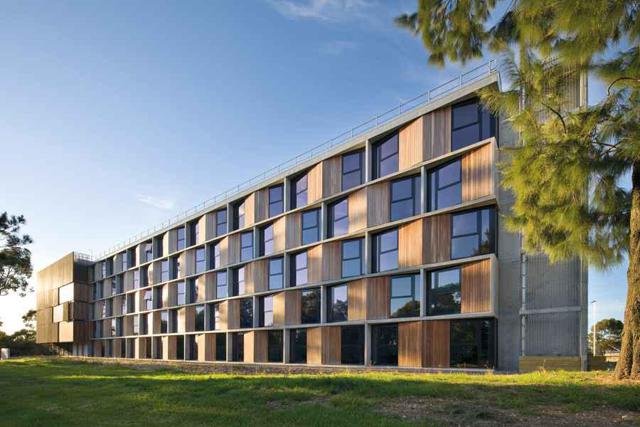 Real estate investors have a new place to pour their money into: student housing. Who knew?
"This is an industry that is ripe with opportunity," Bill Bayless, CEO of American Campus Communities, the largest student housing REIT (real estate investment trust) in the United States, told CNBC. Bayless is also the developer of Drexel University's Chestnut Square, a 361,000-square-foot luxury dormitory that serves home to 861 students.
"If you look at the student housing sector, it was ignored by the mainstream real estate industry for more than 40 years," he added.
"The fundamentals are really, really strong," said PricewaterhouseCoopers partner Mitch Roschelle in the CNBC report. "When apartments get hot, the apartment derivatives tend to heat up also, that's part of it."
The student housing accommodations are no basic dormitories with bunk beds and a comfort room shared by all-they are replete with lush sofas, a concierge, flat screen TVs, private bathrooms, and receiving areas that rival even the swankiest spas in the area.
Some even have robotic valet parking systems, according to a report on Bisnow.com examining student housing trends. Tanning beds, which are now a common feature of college dorms for women in Arizona as a Bisnow.com report stated, could also one day be a staple of upscale student housing across America.
Despite the cost of investing in these student accommodations, many investors think it's not big of a problem.
"Debt is still cheap, so who cares?" said Walker & Dunlop SVP Will Baker at a panel discussion during the national Bisnow Annual Student Housing Summit.
"There's so much capital coming from every source," added Ackmann-Ziff managing director Marc Schulder.
Marketing student housing could be new to most real estate agents and brokers. But those who would like to tap the nascent yet lucrative student housing market can use disruptive video marketing technologies in their marketing endeavors.
RealBiz Media Group, Inc. develops disruptive proprietary video marketing platforms that provide agents an avenue to market themselves and their listings without having to buy leads from major multiple listings sites.
RealBiz Media's value-for-money platforms such as the Microvideo App and Nestbuilder Agent allow agents to create their own microsites or channels centered on videos and virtual tours about local listings, community events and news. These apps can syndicate posts to social media websites like Facebook, Twitter, and Pinterest.
"What they can then do is follow-up with the leads that they have sent out and determine who is an interested follower and who is not, thus generating business back to them," said RealBiz Media CEO William Kerby.
RealBiz Media also offer a Virtual Tour Program that features a platform where agents can showcase home video tours of their listings. RealBiz Media's Virtual Tour Program costs $299 annually or $29.95 monthly.
The CNBC report noted that the student housing market is stands at $4 billion to $5 billion. Other major players in the market aside from American Campus include Campus Crest and Education Realty Trust.