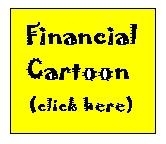 Outlook: The week began with such promise. Investors absorbed on-balance encouraging economic and earnings reports—or at least avoided internalizing bad news. However, the week ended on a sour note.
More Political than Economic: After eight weeks of gains by the DJIA, investors were looking for an excuse to sell and they got one: Egypt. At least initially the unrest in Egypt appears more of a political problem than one of global economic risk. If the problems in Egypt can be contained without spilling over further into North Africa then this may represent a temporary pause.
A "Pop" with High Amplitude Sideward Movement: While we may get an initial "pop" on Monday from an over-reaction on Friday, we should expect increased volatility and possibly some sideward movement of equities as we're likely to gravitate back to an intensified risk "on/off" trade. 
OK to Wait: In the classic movie "Lawrence of Arabia", there is a scene in which General Lord Allenby responded to a subordinate's query as Damascus falls and burns, "Look, sir, we can't just do nothing." Allenby's response was, "Why not? It's usually the best." (See "Financial Cartoon"[1].)
While the classic response will be buy Treasuries and commodities—particularly oil, as a third-base coach, I'm holding my runner up at second. I'd like to see a little more before waving him home.
Political Economic Commentary: Please find an article regarding investment implication of the issues facing social security, "The Social Security 'Fix'"[2].
CEF Weekly Review: On average the 13 closed-end fund (NYSEMKT:CEF) types registered an increase of 0.5% for the week ending 1/28/11. The high-low spread was +3.5% versus +5.2% the previous week on a respective average of +0.2%. On an aggregate, unweighted basis, the weekly average price change for the 500 plus CEFs in the Eqcome database was up 0.7%.
The PowerShares CEF Income Composite (NYSEARCA:PCEF), an ETF that invests in taxable income CEFs, was up 0.3% for the week. The S&P 500 was down 0.5% for the week and up 1.5% YTD. The S&P 500's average daily share volume for the week was down 6.9% to 4.631 billion—despite a surge of volume Friday reaching 5.619 billion.
(Click Here [3] for YTD CEF Performance. The table is based on a smaller CEF sample size as all the data fields are not available for the CEF universe.)
The Eqcome CEF Fear Index for the week was flat. The average unweighted price increased 0.7% while related NAV was also up 0.7%. For the second week in a row the VIX advanced. The VIX added 8.5% to the previous week's 19.5% "pop" to settle over 20 at 20.04.
CEF Weekly Fund Type Performance: The current week's price changes looked remarkably similar to the previous week's with the debt-oriented CEFs outperforming the equity-oriented CEFs. The major difference was that with the exception of WrldEqFnds, all other categories of CEFs posted price advances. InvGrdFnds led the 13 fund types with regards to price appreciation posting a 1.6% price appreciation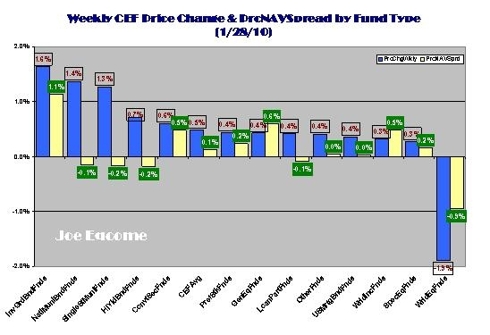 After weeks of pounding, both national and state CEF muni funds advanced for the second week in a row up 1.4% and 1.3%, respectively for the week. This was consistent with the muni bond ETF, iShares S&P National Municipal ETF (NYSEARCA:MUB), which advanced 1.2%.
Interestingly, both national and state muni funds generated negative PrcNAVSprds indicating that share prices maybe ahead of the underlying muni bond values. This would be consistent with the significant outflow of monies from long-term municipal bond mutual funds for the week ending January the 19th. The outflow doubled from the previous week to $5.7 billion. Taxable mutual funds took in $3.5 billion while total equities took in $4.6 billion of additional funds sopping up some of the muni outflow.
WrldEqFnds took a beating as unrest flared in Egypt and the portions of North Africa. The equity money flow for the DJIA was down 0.41% for the week and the Up/Down Ratio was 0.95. Of the DJ US Total Stock Market Sectors, Consumer Goods sector was off 1.62 in terms of money flow while Basic Materials was up 1.46%.

Weekly CEF Winners and Losers: One of the CEFs with the greatest positive spreads for the week was PIMCO Corporate Opportunity Fund (NYSE:PTY). PTY's price advanced 8.7% versus its NAV which increased 0.8%; this generated a positive PrcNAVSprd* of 7.9%. 
PTY invests 80% of its total assets in US dollar denominated securities of various maturities with an intermediate portfolio duration (10.8 years). Over two-thirds of its portfolio is invested in high yield corporate bonds. The portfolio is significantly leveraged at an effective leverage rate of 31.3% of which approximately two-thirds is Auction Rate Preferred Securities.
PTY pays an annualized monthly distribution of 7.3% and it is currently trading at a 15.8% premium. Investors looking for an "equity-like" investment with some downside coupon protection may gravitate towards a high yield CEFs like PTY. Also, some may find comfort in Pimco's size and ability to shift investment internally to make portfolios meet their objectives.
One of the CEFs that experienced the greatest negative PrcNAVSprd was Templeton Russia & East Europe Fund (NYSE:TRF). TRF's price declined 6.4% while its NAV decreased 0.2% generating a negative PrcNAVSprd of 6.3%.
While all WrldEqFnds have suffered as a result of the unrest in Egypt, TRF, whose average 3 months daily trading volume is 36,000, experienced very significant volume spike on Thursday and Friday of this week: 103,300 and 162,900, respectively. The stock tumbled 7.3% in those two days alone. On Friday, the stock was off $1.51 per share (6.1%)
As the name implies, approximately 80% of its investment are in Russia and the Ukraine. It is currently trading at par and employs no leverage. The noted Dr. Mark Mubious has run the portfolio since 1995. Like most WrldEqFnds, it pays a nominal distribution based on yearly capital gains. There appeared to be neither filing insiders nor intuitions unloading the stock.  (See: "CEF Focus Stock(s) for the Week:" below)
Economic & Earnings Outlook: (Click here [4] for next week's economic calendar; click here [5] for earnings' announcements and estimates.)
ETFs: For a more detailed EFT performance by sectors, click here [6].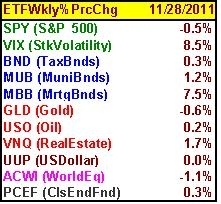 Insider Trading: For the week ending 1/28/11, there was little insider trading. Of what there was it was generated by Keith R. Fox, who purchased 1,000 shares each in three separate DWS CEFs where he is a director: DWS Municipal Income Trust (NYSE:KTF), DWS Multi-Market Income Trust (NYSE:KMM) and DWS Strategic Municipal Income Trust (NYSE:KSM). All three appeared to be initial positions.
(Click here for a hyperlink to the Joe Eqcome's CEF Weekly Insider Report.)
CEF Distribution Announcements This Week: The following is a link to a table of CEF distribution announcements this week as well as the previous week's with yet expired ex-dividend dates. The list is not intended to be inclusive. (Click Here for Joe Eqcome's Weekly CEF Distribution Announcements)
Significant CEF Corporate Events: Gladstone Capital Corporation (NASDAQ:GLAD) announced that the industry's two leading proxy advisory firms – ISS Corporate Services, Inc. ("ISS"), a wholly-owned subsidiary of Institutional Shareholder Services Inc., and Glass Lewis & Co. ("Glass Lewis") – each recently issued a report recommending that stockholders of the Company vote "For" for the proposal that would allow the Company to issue and sell shares of its common stock below its then current net asset value per share ("NAV").    
The Swiss Helvetia Fund (SWZ) announced this week that the Board of Directors has approved SWZ making up to two tender offers in 2011, each for up to 5% of SWZ's outstanding common stock. The price per share would be equal to 98% of the Fund's net asset value ("NAV") per share as determined by the SWZ on the next business day following the expiration date of the tender offer.
The tender offer is subject to the share price's average discount to its NAV per share being greater than 10% during applicable 12 week periods commencing March 1st and September 1st, respectively. Additionally, the offer is subject to payment in cash or securities and the limit of no more than 5% of tendering shareholders share in the SWZ.
CEF Focus Stock(s) for the Week: The focus stock of the week is Templeton Russia & East Europe Fund (TRF). The stock was significantly "off" based upon major selling pressures at the end of this week.
There can be no telling if the situation in Egypt burst into global chaos felling all emerging off-shore investments for the duration of this heightened tension. Additionally, the handling of the Khodorkovsky trial undermines investors' confidence in doing business and investing in Russia.
However, a couple of items make me want to spend some time looking at TRF as the stock may have been unceremoniously dumped. The current share price may provide risk-oriented investors an attractive entry point in the stock. In comparison to Market Vectors TR Russia ETF (NYSEARCA:RSX), the ETF only dropped a 2%, or only a third of TRF weekly price performance.     
Since September of last year the spread between US States Oil (NYSEARCA:USO) and TRF has widened with TRF outperforming USO. Whether the turmoil in the Middle-East again focus investors' attention on the disruption of oil supplies and re-focus them on Russia as an important source of supply remains to be seen.
TRF may just be a temporarily oversold stock? Or, it's just the start of further price erosion. Notwithstanding, it deserves a "look".
Caveats: The "CEF Focus Stock(s) for the Week" section includes CEF stocks of interest to me—and possibly other retail investors—and are subject to further analyses. Their inclusion in this section should not be viewed as recommendations based on the analysis provided here alone. Such stocks are basically a "heads-up" of something that might be of interest—or, not.
Joe Eqcome (Owns a diversified portfolio of CEFs and ETFs and is long stocks in the CEFBig10™, CEFMuni10™ and CEFDisc10™ as well as VGK) 
Additional Disclosure: Eqcome CEF Portfolio™: Joe maintains three separate CEF portfolios that have different investment objectives: CEFBig10™, CEFMuni10™ and CEFDisc10™ (see website).
The first is a balanced equity-income portfolio (CEFBig10™), the second a tax-exempt income portfolio (CEFMuni10™) and the third a portfolio whose objective is capital gains with a secondary objective of current income (CEFDisc10™).
These portfolios will soon be available to retail investors at a nominal fee to maximize equity-income for retirees and retail investors.
The recent increase in interest rates and the pressure on muni funds has placed downward force on the stock prices since the late-2010 (See: Performance Chart[7])
---
[*] All things being equal, price and NAV should move in tandem. A price movement greater than the NAV generates a positive PrcNAVSprd and may be interpreted as negative on a near-term basis and indicate that the stock is overvalued relative to its NAV which in theory is the stock's intrinsic value. The opposite would be true for a negative PrcNAVSprd.
---
[1]
http://www.youtube.com/watch?v=sppPQogIhxs&feature=related
[2]
http://joeeqcome.web.officelive.com/Documents/JoeRschRptSocSecFix_012711.pdf
[3]
http://joeeqcome.web.officelive.com/Documents/JoeYTDCEFWebTblRpt.pdf
[4]
http://www.bloomberg.com/markets/economic-calendar/
[5]
http://www.bloomberg.com/apps/ecal?date=20110124&strtpt=1&endpt=50&c=US
[6]
joeeqcome.web.officelive.com/Documents/JoeYTDETFWebTblRpt.pdf
[7]
http://joeeqcome.web.officelive.com/Documents/CEFPortGraphCombined_111210.pdf