This is being posted to the Instablog as SeekingAlpha Editors are slow to produce it as a report.

Actionable Items:

Highest Positive Spread: Eaton Vance Floating Rate Income Fund (NYSE:EFT)

Lowest Negative Spread: Flaherty and Crumrine Preferred CEFs

Focus Stock(s) of the Week: Invesco VK Senior Income Fund (NYSE:VVR) (See Section Below)

Last Week s Focus Stock: Royce Micro-Cap Trust (NYSE:RMT)

CEF Weekly Review: On average, the 13 closed-end fund (NYSEMKT:CEF) types registered a share price advance of 0.5% for the week ending 3/23/12. The PowerShares CEF Income Composite (NYSEARCA:PCEF), an ETF that invests in taxable income CEFs, increased 0.3% for the week. PCEF is up 5.9% YTD on price appreciation. Currently, PCEF's trailing twelve months' yield is 8.1%. The S&P 500 declined 0.5% during the week on tepid share volume (see below). The S&P 500 is still up an impressive 11.1% YTD.

.Lacking Visibility: Despite the "happy talk" of most professional money managers, when one combines the complacency of the VIX, low trading volume, growing mistrust of financial institutions-with the MF Global using their Muppets' money to save themselves and the BATS trading debut marred by computers run amuck, China's looming housing crisis, and the political disruption of a Obama Care's Supreme Court challenge and the Republicans' reneging on their budget compromise, one wonders if this is a "wall of worry" or a near-term insurmountable obstacle. What investors' lack is clear visibility and that is what keeps them on the sidelines (see, mutual fund data below).

CEF Weekly Fund Type Performance: NatlMuniBndFnds and SingleStMuniFnds rebounded this week from last week's share price decline of 6.0% and 6.6%, respectively. NatlMuniBndFnds advanced 2.2% and SingleStMuniFnds gained 1.9% for the week. The iShares S&P National Muni Bond ETF (NYSEARCA:MUB) posted a more modest advance of 0.8%.

The CEF market fund types listed towards fixed-income as the equity markets retreated with WrldEqFnds experiencing a drop of 1.4% this week.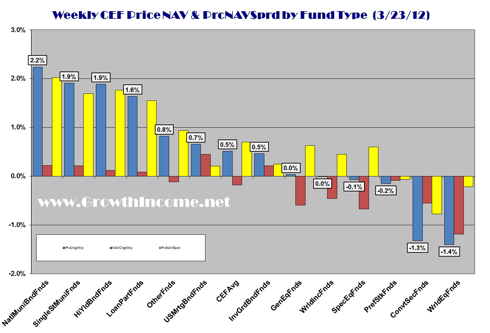 Weekly CEF Winners and Losers: One of the CEFs with the greatest positive PrcNAVSprd* for the week was Eaton Vance Floating Rate Income Fund . EFT's share price advanced 6.9% while its NAV per share declined 0.4% generating a positive PrcNAVSprd of 7.3%.
EFT, as the names implies, invests in senior secured floating-rate loans. The shares trade at an annualized monthly distribution yield of 6.2% and have recently moved to a premium of 6.3%-possibly on the back of a recent 2.4% hike in March' distribution rate. However, EFT's monthly distribution can vary from month-to-month and during the past 12 months that monthly distribution dropped 3.6% to its monthly low in September of last year and has since jumped 6.3% currently from its monthly low to its new monthly rate.
The stock spurted 4.5% late last week on very heavy volume as it powered through this week despite the stock going ex-dividend on Tuesday.
Relative to its peer group, EFT now sports the highest premium with the average of this fund type trading at par.
The CEF(s) with the greatest negative PrcNAVSprd for the week was two of the Flaherty and Crumrine Preferred CEFs: Flaherty and Crumrine Preferred Income Fund (NYSE:PFD) and Flaherty and Crumrine Preferred Income Opportunity Fund (NYSE:PFO). The stocks were off 6.9% and 6.5%, respectively, while NAVs remained unchanged. These share price declines were unusual relative to its peer group which registered a weekly decline of less than 0.2%
Other than going ex-dividend this week, there appeared nothing remarkable regarding trading volume or specific news impacting these CEFs. The only notable distinction is that both CEFs hold large relative stakes in Santander Fin Pfd 10.50. As the investors rotate their focus from Greece to other troubled Eurozone sovereigns, a Spanish bank holding company may come into focus.
Significant Events: The Malaysia Fund (NYSE:MAY) announced the Board's approval for the liquidation of the Fund. Under the plan the Fund will sell its assets, discharge its liabilities and distribute the net proceeds to stockholders. However, the plan still needs approval by the Fund's stockholders. This will be determined at the Fund's annual meeting in June of 2012.
CEF Focus Stock(s) for the Week: Given the limited space, our focus stocks for the week are the subject of a separate report entitled, "Investors Ignore Distribution Declines in Fixed-Income CEFs". This report includes buy recommendations for Nuveen Floating Rate Income Fund (NYSE:JFR) and Invesco VK Senior Income Fund and a sell recommendation for PIMCO High Income Fund (NYSE:PHK).
Last Week's Focus Stock(s): Our focus stock last week was Royce Micro-Cap Trust . RMT, as the name implies, invests in micro-cap stocks (stocks under $250 million in market capitalization). These are typically companies in their early stages of growth and perform well in the early stage of a stock market recovery. RMT has total assets of $370 million and is leveraged 17% with a $60 million cumulative preferred share issue at an annual dividend rate of 6.0%. The stock has a 3 month average daily volume of 65,000 shares.
Our thesis was based on relative valuation.
RMT trades at a 13.4% discount and at an annualized quarterly yield of 5.6% (stock just went ex-dividend March 2nd.)
RMT share price year-to-date (YTD) lagged its NAV per share by 2.0% while its CEF peer group share price advanced 4.0% relative to its NAV YTD.
RMT has also lagged its ETF counterpart, the iShares Russell Microcap Index (NYSEARCA:IWC), with RTM share price advancing 5% and the IWC share price 10% YTD.
RMT is a fair weather friend. It performs best in advancing markets as its estimated beta is 1.33. Our recommendation last week was accumulation on any significant market weakness. After slumping mid-week on Thursday, the stock rallied on Friday to post up 0.7% for the week.
Joe Eqcome
[*] All things being equal, price and NAV should move in tandem. A price movement greater than the NAV generates a positive PrcNAVSprd and may be interpreted as negative on a near-term basis and indicate that the stock is overvalued relative to its NAV which in theory is the stock's intrinsic value. The opposite would be true for a negative PrcNAVSprd.
Saturday March 24, 20122012-03-24T17:19:00Zjoeeqcome.web.officelive.com 01:23:29 PM2012-03-24T17:19:00Z