Friday morning delivered an employment report that the markets digested pretty well. There were aspects of the release that could have fueled both the bulls and bears, but the bulls prevailed. 236,000 jobs created were well ahead of the 171,000 estimated, but the labor participation rate sank to 63.6%. Price is king and not only did benchmarks advance Friday, but they held the near 2% weekly gains going into 830am release. The robust gains heading into Friday, could have been an easy excuse to give back at least some of the strong move, but the indexes remained stubborn. This benign report is important, because remember 2/3′s of GDP, emanates from consumer spending. With an improving job situation, consumers may part with more of their paychecks, and some sectors could get more of a boost than others.
Markets and stocks themselves tend to predict the future very well. Some groups will anticipate in an uncanny way, that even astute investors may not realize at the time, that healthy gains will be reaped going forward. As a technician I believe this picture is painted through the stocks charts. If you examine a stock or sectors movements closely, and follow the money, you most often will be rewarded with powerful gains. A group that has caught my eye that is starting to benefit from an improving jobs climate, and will most likely continue is the casual eating industry.
The Golden Arches, MCD, a Dow component sniffing out par, had superb volume Friday confirming Wednesday's cup with handle breakout from a 96.42 pivot point. With the Dow being a price weighted index, MCD, being the 4th highest priced stock (only 3 others are trading above 100, IBM CVX MMM), could keep the Dow's all time highs rolling right along. Look for a retest of that cup with handle pivot for a good entry.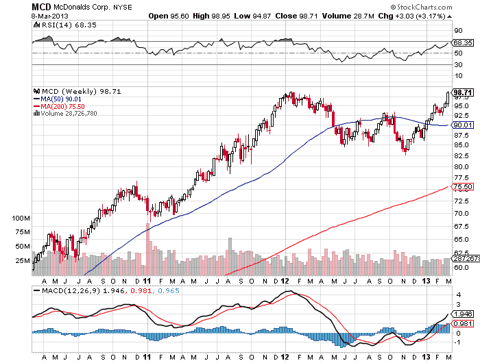 CMG a former best of breed behemoth in the group, has ran into some trouble. The stock is mired in its own personal bear market, down more than 27% from its most recent 52 week high. The stock did reclaim its 200 day SMA this week for the first time since last summer, but it is lagging. Its misfortune however has laid the groundwork for other, innovative companies to prosper. PNRA, as you can see on this weekly chart has enjoyed decent 200 day SMA support for more than a year now. The stock has also carved out a valid flat base trigger of 175.36. The formation is almost 6 months long in duration, and the longer the pattern, the better the chances of success.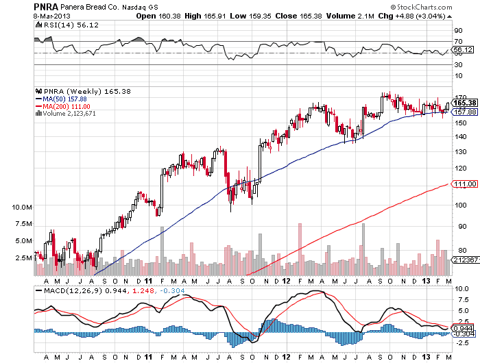 As we lost an hour of valuable sleep last night, and find ourselves in the month of March, a college basketball frenzy awaits us. Another young, contemporary stock that captures the spirit, and profits from this season the most is Buffalo Wild Wings. A look at BWLD's weekly charts demonstrates the monster move the stock had from the beginning of last year when it had a monster move on 2/8/12 after a very well received earnings report. The stock has had some hiccups this year, but weekly chart smooths the overall picture out, and lets you see the trend. The stock this year has been in a basic range, with 70 being support, and 90 resistance. In fact this stock can be bought with a precise 90.00 flat base trigger on strong volume.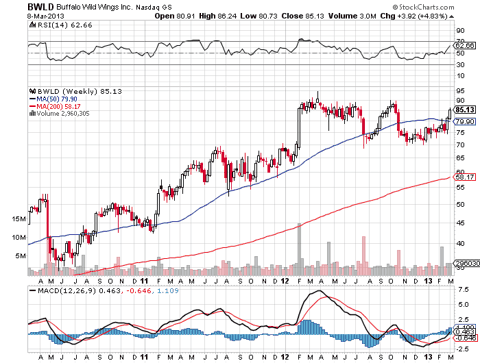 There are many others I could talk about like CBRL, which is sitting at an all time high, after eclipsing a 69.40 flat base trigger it took out on a very tasty earnings report, pun intended. The strength there is mighty impressive giving the locations of many of its restaurants, near highway rest stops, with gasoline prices costly. KKD has exhibited very tight trading, as it has made extraordinary moves recently. Newer IPO's like BLMN, whose chart will hardly make you cry, to BKW CHUY FRGI, are further evidence that the consumer may just be on the mend, ready to invest in some meals outside the home. Perhaps some of the names will fatten up your portfolio, if this recent trend continues.
Disclosure: I have no positions in any stocks mentioned, and no plans to initiate any positions within the next 72 hours.