We started coverage on FDX with Astrology Traders on Aug 12th and we were looking for a bounce above $89. It overshot the mark by a few dollars and then it was straight down culminating with yesterday's earnings news. We advised traders this weekend to begin booking partial profits on this stock and anytime a stock issues a warning like yesterday and the stock behaves in such a manner that is the time to be exiting completely. You never want to allow any of those quick gains to disappear as they have on this mornings bounce.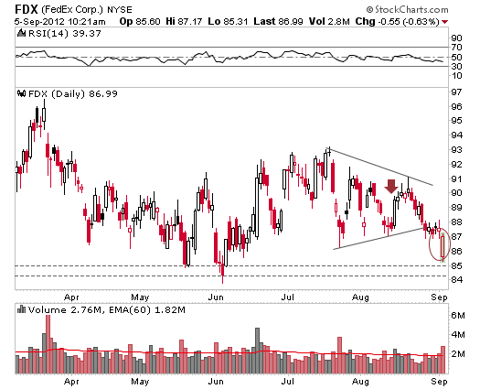 Here are excerpts from Astrology Traders regarding FDX.
From 12 Aug 2012
FedEx has not kept pace with the market rally and could show signs of a further setback when Venus makes an opposition to the IPO Sun on August 13th and then Jupiter makes a square to Saturn on August 17th. Jupiter is "supply" and Saturn is "demand" suggesting a further slowdown in business. Jupiter will then make an opposition to Mercury (rules mail and parcel delivery service) further suggests needed measures to reduce costs, and possibly layoffs.

FedEx is due to report earnings on September 18th, and with Jupiter oppose Mercury leading into that report suggests the overall economy has not been accommodative for their continued business growth. There could be a setback for the stock that is significant after August 23rd and particularly September 2nd - 5th that carries into the end of September. Jeff likes a short position on a bounce near $89 or a daily close below $87.24.
From 26 Aug 2012
The transportation sector continues to lag the general markets. My recommendation on August 12, 2012 for a short position for FDX on a bounce near $89 was surpassed and has now closed at our short target. The company will report earnings on September 18th. Jupiter will be transiting the IPO 4th house and opposing Mercury (rules postal deliveries) while also square Saturn just prior to the earnings report suggests there could be more selling pressure.
From 3 Sep 2012
FedEx has pulled back and I advise to book some profits here. There could be a further pullback as I have suggested with the Jupiter square Saturn. As a reminder Fedex report on September 18th so I advise not to hold positions into earnings.
The following is by Karen Starich, who uses astrology to forecast events in the financial markets. Astrology Traders provides specific dates and in-depth analysis of future events for the financial markets through weekly updates, trade alerts, and educational webinars.
Related Posts:
Karen Starich / Jeff Pierce Unplugged
Financial Astrology: Brewing Profits With Starbucks