Reader question:
With all the QE that is happenning the US$ looks to be under pressure over the intermediate and long-term. I'm Canadian and with the US$ potentially dropping further I am trying to look for opportunities that aren't denominated in US $, in Canada and also in Europe. I was wondering if you had any analysis on TSX and/or european markets/stocks that you do or might do in the future?
Tricky question as I don't like to predict how the financial markets will react to a big event such as QE3 as much as I prefer to react to trader's reaction. It appears we're in for a serious bout of inflation withprecious metals rallying strongly, commodities popping, and the dollar getting crushed under it's own weight.
If you're looking for a pure anti dollar play then you may want to trade US Dollar Bearish Index Fund (NYSEARCA:UDN). I can't say I officially believe the dollar is done but it definitely does not look good right now.
Here is one bullish take from Financial Tap on the US Dollar.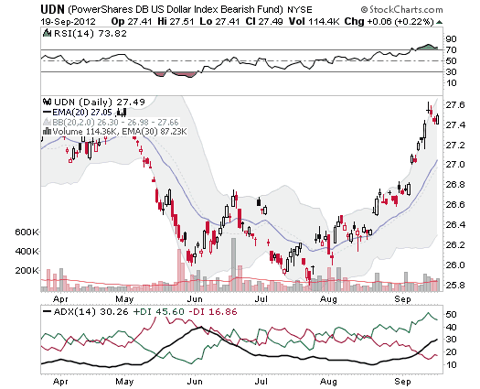 And then there's GDX, which if commodities remain strong these will continue to outperform. The one problem I see with this weekly chart is that for as strong as gold and gold related stocks have been the RSI still hasn't gotten above the 70 level and we're are just now back to resistance after a vertical move higher.It's unlikely that this is sustainable so a pause is likely here. How that pause shapes up will determine if it can move higher or if this move is a blip.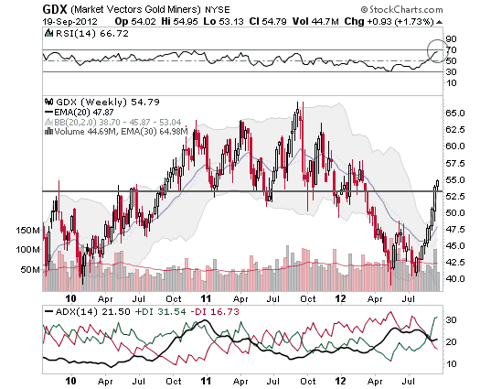 Finally there's Central Fund of Canada (NYSEMKT:CEF) as a dollar down, Canadian up play. This is perhaps the strongest of all these charts from a pure momentum play as it's the closest to all time highs, which were made in 2011. This would be my vehicle of choice.
I'm not really sure if I've provided you with the answers you were looking for as I don't delve too much into the fundamentals or the interconnected currency markets. Give me a specific chart and I can tell you if it's a buy, sell, or a hold. If you were looking at something specific feel free to leave a comment below and I'll take a look at it.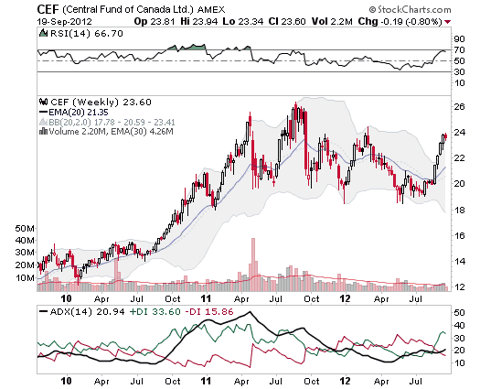 If you'd like to receive exclusive content on the stock market and how to profit from it, All About Trends has a free newsletter that I highly recommend. As a thank you for signing up, you will be able to download our free ebook -"How To Outperform 90% Of Wall Street With Just $500 A Week".