By Financial Tap
The following is a brief excerpt from the premium mid week update from the The Financial Tap, which is dedicated to helping people learn to grow into successful investors. They offer a FREE 15-day trial where you can experience their proprietary cycle research, weekly updates, and real time alerts. 15% off with coupon code: ZEN
$US DOLLAR - Cycle Counts
| | | | | |
| --- | --- | --- | --- | --- |
| Cycle | Count | Observation | Outlook | Cycle Clarity |
| Daily | Day 16 | Range 18-22 Days - 1st Daily Cycle | Bearish | Green |
| Investor | Week 4 | Range 18-22 Weeks | Bullish | Amber |
| 3Yr | Month 17 | Range 36-42 - 3rd Investor Cycle. | Neutral | Green |
| Secular |   | The Dollar Secular Cycle is undetermined | Neutral | Red |
The Dollar Cycle threw us for a little bit of a loop this week, turning lower from a position where one would normally expect to see continued strength and follow through price action. That's because the reversal on Day 10 signaled willingness from this Cycle to keep pushing higher, all but eliminating the fear of a Failed Daily Cycle. Despite the relatively (for this environment) positive jobs picture (Dollar positive) and reduction in the unemployment rate, the Dollar instead has turned lower and was at one point within just 60 bips of a failed Cycle.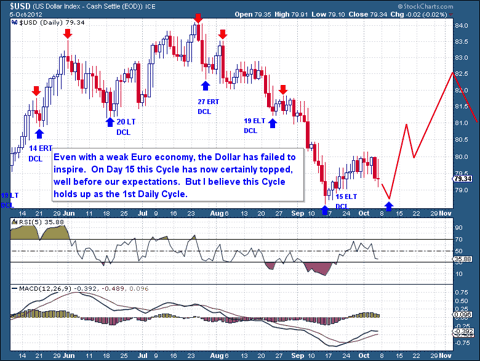 So we're left with a little bit of a dilemma here, this Cycle weakness leaves the door (just slightly) open for a marginal Daily and Investor Cycle failure below 78.60. If the Cycle continues to move lower and break previous lows, we might be left with a technical Cycle failure but with bullish diverging indicators. This means that although price could make new lows, the technical indicators could be much more positive compared to the prior low (15 days ago). I certainly cannot rule out the possibility of such an event, but I can almost rule out the possibility of a significant decline below 78.0.
My primary thesis remains that this is the first Daily Cycle, the previous Cycle Low having met every single requirement for an ICL, so until proven otherwise the call needs to stand. Therefore I will be operating under the premise that this will be a short and weak 1st Daily Cycle. I've been seeing a pattern of short and flat Dollar Cycles recently, and in light of the downward pressure placed by QE, this is not an unreasonable explanation.
Previous Financial Tap Posts:
Time To Establish New Gold Positions