By Mike Ber - ForexAlerts.ca
EUR/USD - 1.2982
Bias: Bearish - Neutral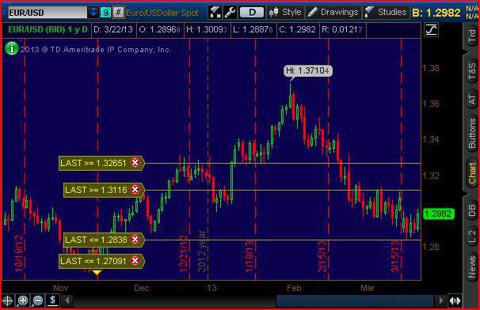 EUR/USD - Daily Chart
Levels:
Upside
1.32651
Range
1.2838 - 1.3116
Downside
1.27091
Commentary:
The unresolved situation in Cyprus will weigh on the markets. Any delay by lawmakers to approve the measures to secure bailout funds will be a big disappointment for the markets next week.
Failure to reach an agreement would mean that stocks in US will open sharply lower on Monday, but Forex traders will be the first to see market's reaction on Sunday.
EUR/USD is trading within the 1.2838 - 1.3116 range.
In the medium term the pair is continuing to trade in a bearish fashion. No changes in our outlook. The pair is channeling between the resistance and support.
We mentioned in our previous reports that EUR/USD was very resilient, and could brush off all the pressure associated with financial instability in Cyprus. We are not sure that another weekend of uncertainty could prevent the slide of EUR/USD at Sunday's open if no agreements reached.
If our first downside target - 1.2838 will be broken, the next level of support will be 1.27091.
On the other hand any successful resolution, will lead to a rally and will propel EUR/USD to at least 1.3116 area of resistance. Our next upside target is 1.32651.
We believe that 1.32651 will represent a good opportunity to initiate short positions.