By Poly
This is an excerpt from this week's premium update from the The Financial Tap, which is dedicated to helping people learn to grow into successful investors by providing cycle research on multiple markets delivered twice weekly. For more up to date commentary subscribe. Now offering monthly & quarterly subscriptions with 30 day refund available if not 100% satisfied.
Gold has shown unexpected strength this week. While I generally welcome strength, our favored scenario has called for more weakness. Gold's current move is counter to the extremely weak behavior we'd expect for a 4th and final Daily Cycle. In fact, with each day that Gold's price rises, the secondary scenario - that this is the 1st Daily Cycle of a new Investor Cycle - gains more favor.
It's an unfortunate development, because we're now left with two very different, conflicting possibilities, each of which is credible. Cycle interpretation is a game of probabilities so conflicting scenarios are common…but we don't have to like it. Conflicting signals warrant caution and significantly reduce the possibility of high percentage trades. While the prospect of a new Investor Cycle is certainly encouraging for Gold Bulls, a lack of clarity in the current Cycles undercuts the confidence necessary to successful trading.
There's another complication; some time will need to pass before the two scenarios 'shake out' and our expectations for Gold solidify. Gold is 8 days into a new Daily Cycle and is approaching a Half Cycle Top - regardless of whether this is a 1st or 4th DC. In both scenarios, Gold is destined to head lower, likely breaking below the 10dma before forming a Half Cycle Low. It's the bounce out of the HCL that will reveal whether we are in a 4th DC of the old IC, or the 1st DC of a new IC. If this is a continuation of the old Investor Cycle, the HCL bounce will be shallow and short-lived. The Cycle will declare itself as Left Translated by quickly rolling over and then failing (red line below). On the other hand, if this is a 1stDC, we should expect a shallow drop followed by a powerful rally above the high of the previous Daily Cycle at $1,375. This first DC would become Right Translated (orange line below) before falling into a DCL.
(click to enlarge)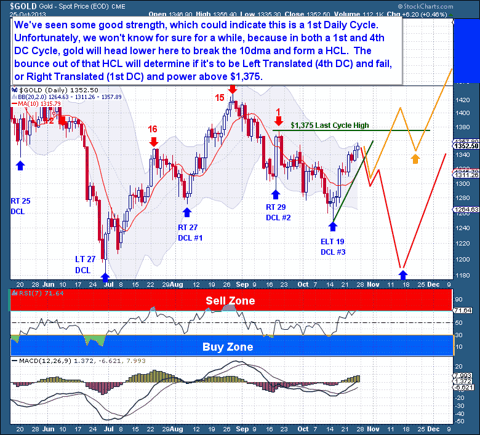 Click to enlargeMiners have an outlook similar to that of Gold. The chart shows a very well-defined double bottom with a bullish W pattern. At this point, the miners have the makings of a major low, the type that always looks obvious in hindsight.
If Gold has started a new Investor Cycle, then the miner's break out of the declining channel will be real and the current double bottom will hold. But it will take time for this scenario to gain traction in investors' psyches; the miners have a nearly 2 year history of failure and rejection, and they have visited huge pain on traders. At some point, of course, a trend change will occur…and when it happens, the chart will appear similar to the one currently being drawn. Is what we're seeing now the "real deal", the major bottom in miners that we've been expecting for some time? Only time will tell. There is a huge difference between acknowledging the potential for a trend change and having it occur. We need confirmation before we can trade miners aggressively on the Bull side. For now, we must be patient.
On a personal level, I hope that the miners have finally turned the corner. I am very much vested in the long term promise of Gold's secular bull market, but am more cautious when it comes to shorter term positions. The fundamentals of the Gold bull are intact and strengthening so massive gains lie somewhere in the future. The first step toward those gains will be a change in the current trend. For now, though, we can't ignore recent history; the miners are locked in a powerful and dominant down-trend. The outlook is developing positively, but we must be cautious until a trend change proves itself.