By Poly
This is an excerpt from this week's premium update from the The Financial Tap, which is dedicated to helping people learn to grow into successful investors by providing cycle research on multiple markets delivered twice weekly. Now offering monthly & quarterly subscriptions with 30 day refund. Promo code ZEN saves 10%.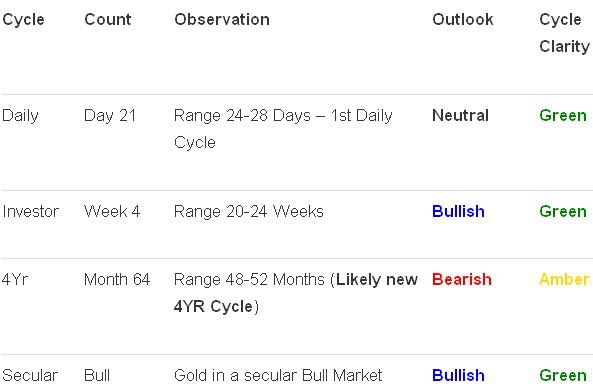 As gold enters its 5th week of this Daily (and Investor) Cycle, it has done a fine job in keeping a low profile. This stealth like move is on track to put in a 5th winning week, its longest streak since the summer of 2012 rally. Unfortunately, a good portion of its "stealth" is due to a relative under-performance to past 1st Daily Cycles.
That's not intended to paint a negative picture on gold's Cycle. Only that besides a decent run from the precious metals miners, there hasn't been a lot about this performance to get me excited. I was expecting at least a solid test of $1,300, if not more, within this Daily Cycle. The fact that world equity markets took a good hit this past week was more than enough reason to see a rotation into the precious metals.
Fortunately, this remains just the 1st Daily Cycle and a young week 5 Investor Cycle. With a successful retest of the June Lows at its back, gold should now have a solid base from which to work from. Looking at past IC's, I see instances where the 1st Cycle was a positive but "under-achieving" Cycle. Many of these were followed with really impressive 2nd Daily Cycles. The point being that it's still early in the Investor Cycle and we should have a (time) cushion to allow gold to work itself higher.
In the very short term, some caution is certainly warranted. I see no evidence of a recent DCL and the timing is perfect for a move to a DCL to begin ASAP. Expect a 3-7 day decline into a DCL, although the decline might be mild, mirroring the tame nature of the 1st Daily Cycle to date.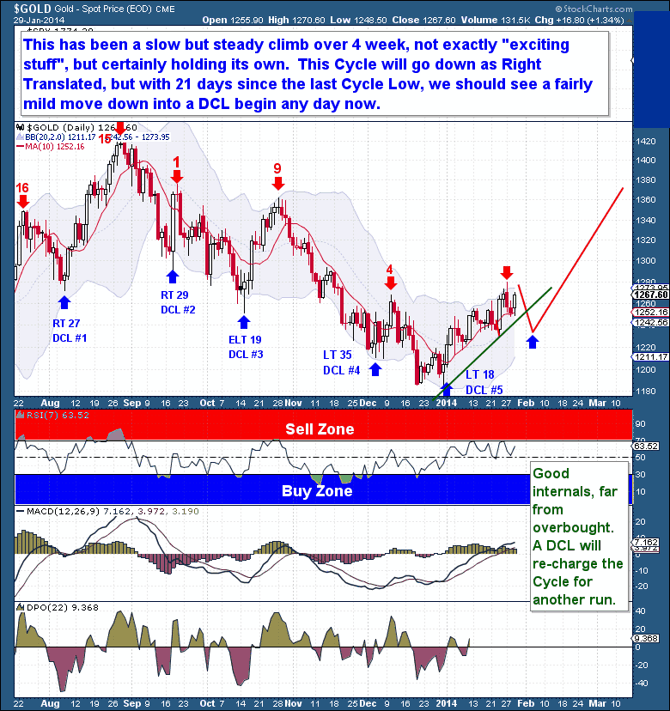 Related Posts:
Volatility Is Coming, But Which Direction?
Speculative Buying Underlies Strength In Silver