The following is an excerpt from today'smid-day report from All About Trends. Premium members receive daily market commentary, trade ideas, and a concise trading plan. I personally recommend their service. Try it here at 50% off regular price.
Over the weekend we talked about the "Into Quarter End" pump. So where is it really? Its in the most extended stocks for the most part and nothing more. We don't buy extended stocks around here or chase buses. Sure a bunch can keep going but when the music stops if you didn't buy them off of a support level or what not as a reference point? These are the type of stocks that can kill you in a market downdraft. Been there, did that in a past life and want no part of that.
This whole end of quarter seems to be all about the kingpins (which are always extended offering no low risk Pullback Off Highs POH entry points) that are all high dollar stocks extending they're gains and nothing more for the most part. Bottom line? If you are not in the most extended stocks (CMG, ISRG, PCLN etc.) then you really aren't seeing too much in the realm of gains.
We mean look at CMG, PCLN, ISRG and AAPL.
(Click to enlarge)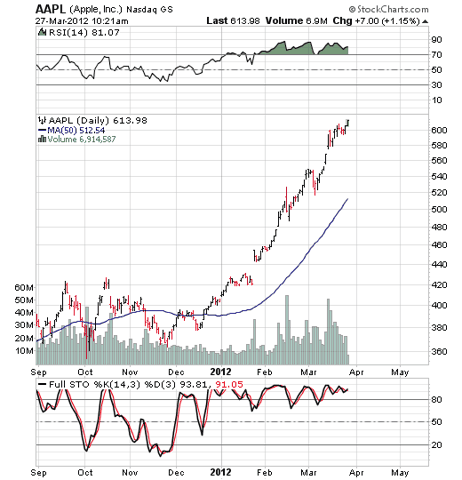 (Click to enlarge)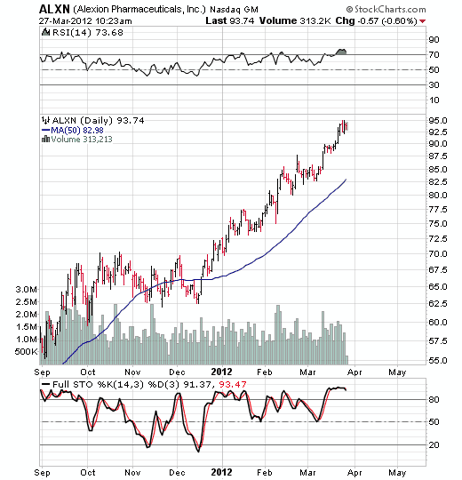 (Click to enlarge)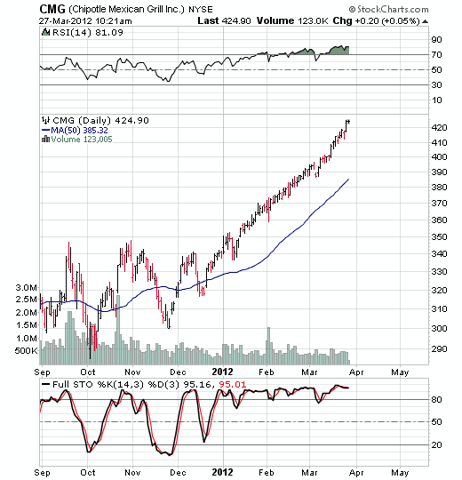 (Click to enlarge)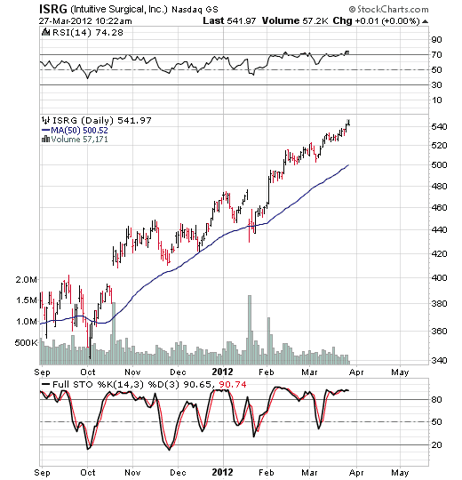 (Click to enlarge)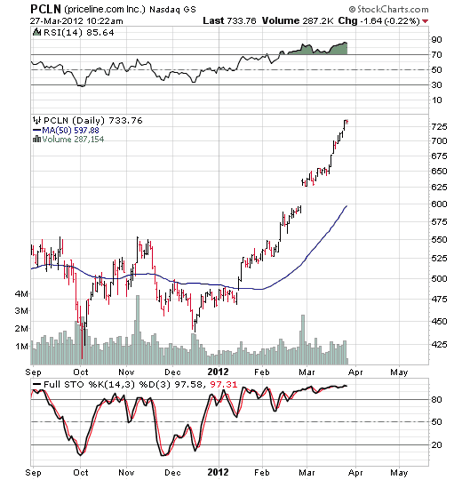 Look at everyone of the above. Can you honestly say you are not chasing a bus here? Can you see any low risk Pullback Off Highs (NYSE:POH) entry points? We see the 50 day and that's that. The only other thing we see is that all of them are getting that look of climax runs. There is an old adage we'll also want to pay attention to with these going forward and that is:
"When the market kills the leaders the rest of the market isn't far behind."
Remember, stage analysis is comprised of four stages. The basing stage, The advancing stage, The topping stage and The declining stage. That said you can not say these are early advancing stage, if anything they are ending advancing stage and a lot of times climax runs occur from the perspective of "The Sun Is Always Brightest At Its Peak" Key word here is - PEAK. My oh my and you can not say the sun isn't very bright with these names now can you. BE AWARE.
In addition to that, we mean really now, just how many shares of these can the average investor really get a hold of to be able to make it mean something to you without having to park you're whole account into a name or two and be able to adhere to trade size risk management at the same time.
But Ahhhhh let's think forward a bit. We know that every year the markets go into a correction for the most part. Usually, sell in May and go away which is but a month away mind you. What do you think is going to happen to these stocks when that occurs?
Simple, initially they'll get slammed and slammed to the 20 or 50 day, catch a bounce then continue the stair step down process when we get into a market correction. That's when we can take some for trades be it options or otherwise and we stress trades. Keep in mind the markets will look ugly and that moment in time too by the way but that's what the face of fear is all about. So until such time? We'll just keep an eye on them internally till such time as they gland slam down to a moving average.
Speaking of corrections? We heard on the radio last week that a 5% correction in the markets on an annual basis has taken place every year in the markets for the last 20+ years. That's a good track record if you ask me. Its also a normal event. And with sell in May right around the corner? Not to mention earnings season is upon us very soon too so lets not forget about that either. It all just means we'll want to be aware we are entering a high risk time period shortly. We can't speak for you but we'll tell ya one thing, we sure would hate to be in one of the stocks above on an earnings miss. Can you say currently being priced to perfection?
So, for today let's just take it easy here as we've got our positions and they are all fine and doing their thing currently. And like yesterday let's keep an eye on ROYL.