In April we could see some very bullish moves in the markets that carries into May. We have had a couple corrections in March that have provided some very good buying opportunities. For Astrology Traders subscribers we recommended some stocks and entry points to take advantage of the pullbacks. We also had one technology stock that we had to pull the plug on after the stock started to look weaker than it should have on the pullback last week.
Last Three Trades Of Astrology Traders:
On March 3rd we recommended Rackspace Hosting (RAX) for a long position (on a pullback that I projected for March 1st-6th) near $48.50-49. Uranus in Aries is very supportive for technology stocks and we felt Rackspace would benefit from that influence. The trade got filled on March 6th at $49.00, we then advised on March 11th to consider booking profits near $56.00. Rackspace reached our target at $56.00 on March 19th closing a very profitable trade.
(Click to enlarge)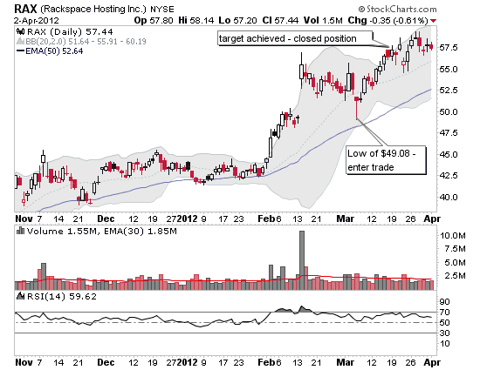 In our subscriber update on March 11th we advised a long position for Amylin Pharmaceuticals (AMLN) near $15.00 suggesting there could be a short squeeze coming for the stock. On March 28th Amylin opened up over 48% on the news of a buyout bid from Bristol Myers. We advised our subscribers to close the trade on some super fantastic gains!
(Click to enlarge)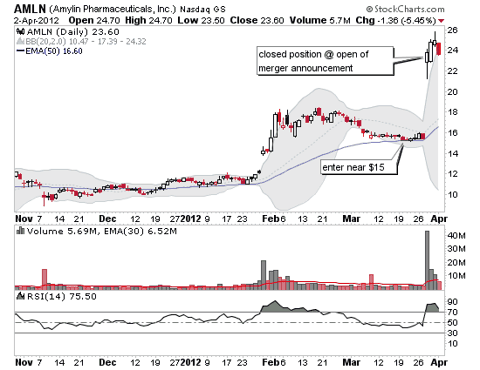 For our March 25th update we added to our watch list Valueclick (VCLK) as a buy near $19-19.50. We felt the company fit with the astrology and would benefit from the transits that would support a company that uses technology to advertise to the masses. The trade got filled at our recommended entry point, however the stock started to look weaker than it should have with last weeks pullback. We advised our subscribers to close the position near $20.00 and exit the trade.
(Click to enlarge)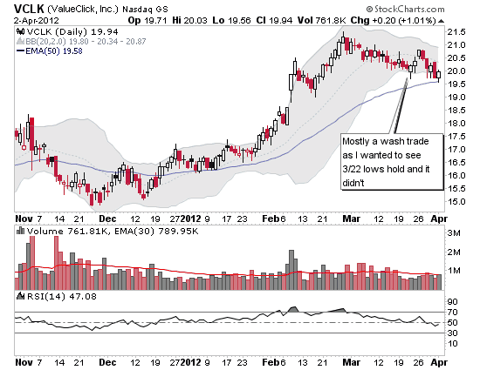 With the astrology it's an advantage to know the dates for potential corrections and bullish moves, however it's also helpful to know how to trade it. We work very hard to hone in on both the astrology trend as well as the stocks that fit the trend and are poised to make a move.
Going forward here are some suggested dates to watch for in the markets:
April 2nd-6th: We could continue to see strength in the markets. We could see a big move up in the markets 4/10. The markets look strong for April.
April 2nd -6th: TBT could make a pullback. TBT could stabilize into the second week of April with a potentially strong move up towards the end of the week. We could see a big move up for TBT on 4/19 and again on 5/3.
May 1st-10th: There could be problems with the foreign Greek bonds and prior default arrangements that are falling through. We could see a setback in the financials as well as the markets. We could also see increases with oil and the President could make a public statement regarding oil that is a duplicitous miscalculation causing a reaction in oil prices where prices drop and then move up suddenly.
May 18th: A very key date to watch for the bond market. The could be a serious setback in foreign and US bonds as well as US financials.
For specific stock recommendations targeted to take advantage of these trends you can become a subscriber of Astrology Traders and get weekly updates on the astrology and investment opportunities.
This past week we held our first live webinar where our subscribers got to ask questions about specific sectors and stocks. Check out what some of our subscribers have to say:
Karen - that was a great first call. I really hope its the first of many to come. - Gauntham

Karen & Jeff - I just wanted to say thanks for doing the Webinar. I thought it was very useful and informative as it helped explain how you use Financial Astrology combined with technical analysis to come up with trends and specific recommendations. The opportunity to ask questions and get answers on-the-spot was also very helpful. I look forward to next webinar. ~ Mark

Thanks Karen. I really like your differentiated analysis. Keep up the good work! ~ Tommy

Well done for you to call up move near 17th; cudos; encore, encore ~ Arthur