WOW! A breakout of a base let's BUY BUY BUY right?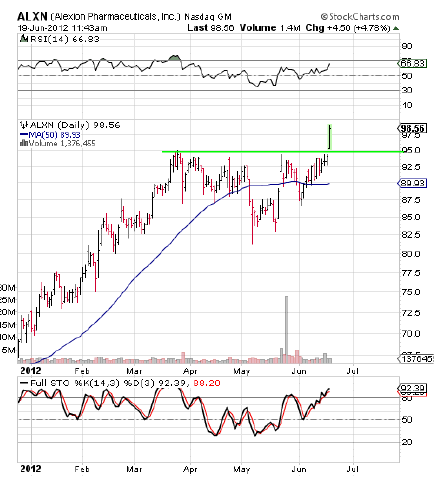 Not so fast. Before you just get impulsive look at the chart below that really shows today's breakout action.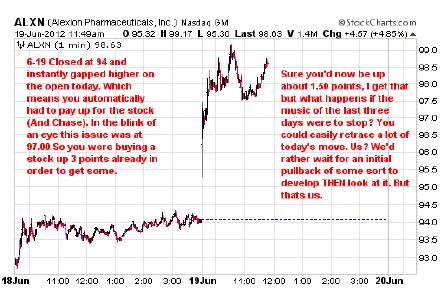 As you can see, you had all of about 30 seconds to pick this name off in the 96 level. But ever place an order to buy in a fast market? Odds favor you don't get the instant execution and odds favor you'd have got filled a lot higher than where you entered the order. Our point to this is while it's a breakout and that is a good thing, you are now instantly chasing this stock. Don't get us wrong, we like the pattern and confirmation of the breakout, but more often than not just sitting back and allowing a lower riskPullback Off Highs pattern to develop or even an initial pullback is a much better trade
We try to make it really simple for you to profit in the market from our service.
1. Each trading day and weekend we give you an overview of the markets and a game plan to profit from it. These are simple charts that are easy to read and see where support is, where resistance is and what to do when stocks hit either level.
2. Based on that plan, we have a watch list of stocks and when a stock triggers a trade, we issue a Trade Trigger email alert followed by a Locking In Gains email alert. We even break out suggested share allocations for portfolio sizes of $25,000, $50,000 and $100,000 to make it easy for you to practice risk management and not let your emotions control your trading.
3. We have a Zentrader only special where you get to profit and trade side by side with us just $15/month vs. our standard price of $29.99/month. Take advantage of this limited time offer because there is a price increase coming next month for this service and if you want to lock in this price forever now is the time to act.