By All About Trends
One look at the indexes here show us that we could be starting to back and fill at the highs here. If that is indeed the action we are seeing from the recent four day vertical assault, then this is consolidation at the highs before we make another launch higher to the brick wall. If we are going to start to work our way down from here we had to fill this mornings gap down open. We can chew around right here to distribute to the masses and folks who missed the bus trying to get in after we've already run.We wish we could tell you more at this point but like we've said we need a bit of chart time before the market can truly show its hand.
(click to enlarge)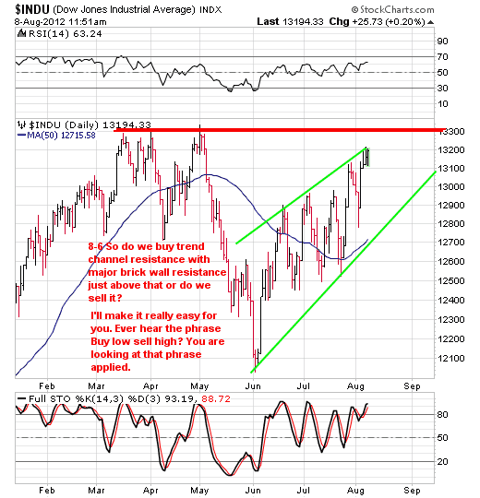 Click to enlarge
(click to enlarge)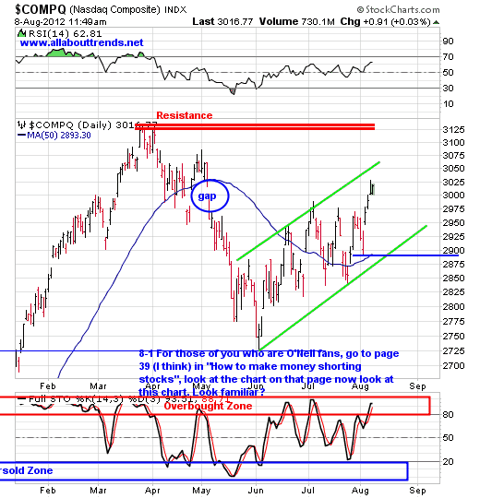 Click to enlarge
Take a look at most highs and lows on the charts above and notice at turning points you typically get a few days of chop/slop before you turn tail in the opposite direction? That may be what we are looking at here.
Now look at the brick wall resistance on the DOW and notice how much upside we really have here - not too much? All of which makes for a hurry up and wait market climate right now. It's only temporary folks - this too shall pass. Which means we manage what we have vs. taking new positions long or short.

Here is one short idea in the meantime.
SHORT SIDE WATCH LIST
MNST
(click to enlarge)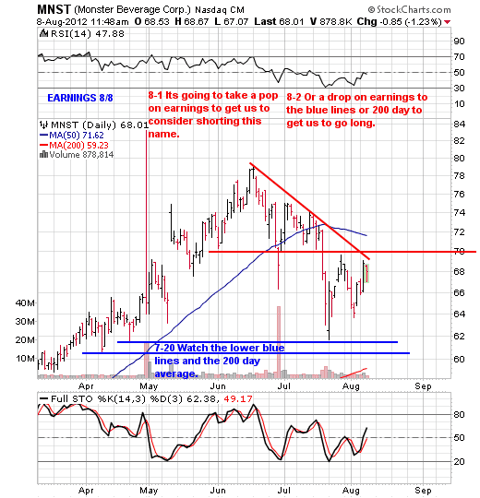 Click to enlarge
8-8 Earnings AFTER the close. The in the money puts and calls when added together tell us there is 7.5 points floating there. This also tells us this stock if it wants to mess with those doing straddles on the earnings event are going to need more than a 7.5 point pop or drop in order to get paid. As a rule of thumb that amount is a good gauge of how much this stock is going to move on the announcement baring a blowout to the upside or a big miss to the downside mind you. Now that's all fine and dandy that this stock could easily move 7.5 points after the close but there is one problem. Nobody knows what way that move is going to take place.
(click to enlarge)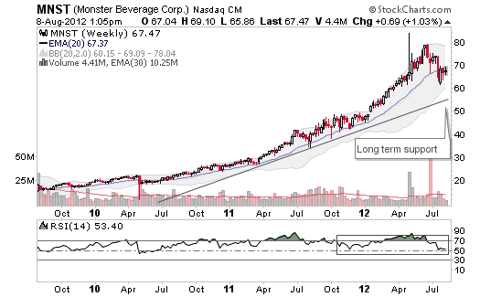 Click to enlarge
So here too, it's hurry up and wait till after the event. If they slam it to the blue line or 200 day we'd consider it for a quick long side trade. If they pop it to the 50 day or a red resistance level we'll consider shorting it. So let's see what gives after the close shall we.
The following is an excerpt from today's premium update by All About Trends. Subscribers receive daily commentary and a weekend wrap-up. I personally recommend their service for their accurate market analysis, trading methodology, and stock selection. Give it a try at a significant discount.