By Karen Starich
During the webinar last week we discussed the recent bullish move for TBT and advised a long position near $15.95 . We could see another significant move up for TBT on August 24th. We could also see a pullback on the dates I mentioned above (9/11-9/14), so I advise scaling in with smaller positions and adding on the pullbacks.
October 4th is another date I will draw attention to for a significant move up for TBT. I will also give a caution for more volatility in the bond market as we approach resistance levels.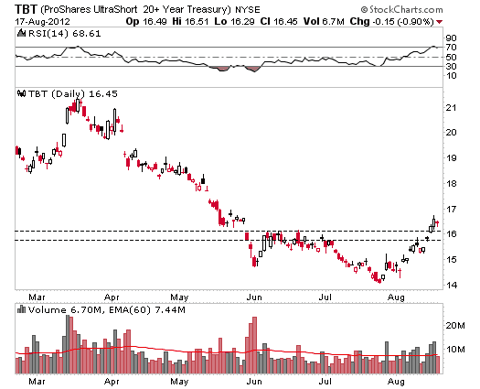 The following is a brief except from this weekend's premium update by Karen Starich, who uses astrology to forecast events in the financial markets. Astrology Traders provides specific dates and in-depth analysis of future events for the financial markets through weekly updates, trade alerts, and educational webinars.
Related Posts:
Financial Astrology: Dow Transports
Financial Astrology: Monster Beverage Corp