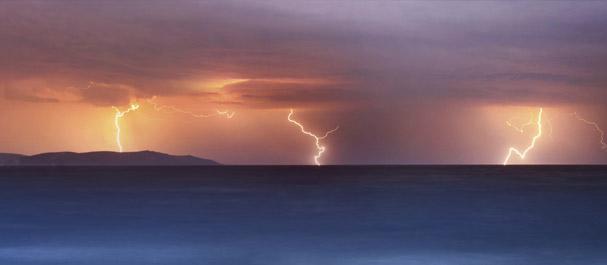 I was suddenly wide awake. The room was dark. Our dog Abby was at the foot of the bed nervously pawing at the bedspread.
Then I heard it - the steady rain upon the roof above me. And then I saw it - a flash of lightning illuminating the backyard outside my bedroom window. It was quickly followed by a crack of thunder that rattled the windows and caused Abby to hop into bed with me and burrow into my leg and under the covers seeking escape.
It was 4 AM and a summer thunderstorm was upon us.
The night before, as we sat on our deck, my wife and I both remarked that it felt like rain. Even though the sky was clear and we'd had a sunny day, there was a heaviness to the air that experience told us meant rain was near.
Before I turned in, I went to the computer and Googled the weather for my area. It said it was clear tonight and Monday but that there was a chance of thunderstorms on Tuesday. I checked the radar. The only rain in sight was a tiny blip of green out in Lake Michigan, way up north, off shore from Traverse City. "Guess we were wrong," I yelled upstairs, "No rain in sight."
Yet here I was wide awake at four in the morning with a shaking dog by my side and a thunder bumper (as we used to call such storms) surrounding me with a cacophony of rumbles and flashes that went on for a number of minutes. As the time between flash and rumble grew longer, I fell back to sleep and when I awoke two hours later only a gentle rain remained of the torrential downpour that had engulfed us earlier.
But that's the nature of a summer storm. Unlike winter and spring storms that can stay around for days or weeks at a time, summer storms are quickly over.
And they are unpredictable. We know when the conditions are right - warm, humid air, beneath a cold front above - but the precise trigger that will let loose all the powers of Thor proves elusive.
Some refer to these summer storms as cloudbursts. In a very short period of time a lot can happen and a lot of water can fall.
Normally these downpours, to borrow a phrase from Shakespeare, "are full of sound and fury, signifying nothing." But every now and then, their winds or a sudden lightning strike can cause some real damage here in Michigan. And, while we don't experience them much here, across the South and Midwest these rainstorms can provide the birthplace for cyclones and tornadoes - that can be devastating.
Summer storms in the stock market tend to conform to Mother Nature's version.
They, too, are somewhat unpredictable. The market can be sailing higher as if the sky is clear of danger and then suddenly a top is formed and the bottom apparently falls out. We're seemingly in free fall for a while before things stabilize.
But usually these summer financial storms are short lived. Even the last correction before the final 2007 top that preceded the 2007-08 bear market lasted only 27 trading days (7/9/2007 - 8/15/2007).
Similarly, our biggest correction since the end of the bear market in 2009 occurred in 2011. The downturn that began on (ouch) July 7th that year saw the S&P 500 almost 20% lower by October 3rd, but all but 1% of that decline occurred in about 20 trading days (7/7/2011 - 8/8/2011). Last year, the stock market did not even fall by 5% at any point all summer long!
It appears that not only are these summer financial downpours short lived, but lately, at least, they have been relatively minor. Even if we go way back in history though, summer has not been the spawning ground for many financial tornados. For example, since 1886, there have been 35 20% or greater bear markets as measured by the Dow Jones Industrial Average. Yet, only four started in the summertime. When the summer stock market rains occur, however, they can still occasionally wreak havoc. Two of the five S&P summer storms were pretty bad, sending values down 46% in 1901 and 36% in 1987.
On the younger S&P 500, there have been 23 bear markets since 1929 and only five have started in the summer. Three of these barely made the grade - registering almost exactly a 20% decline. 1933 and 1987, however, saw losses of 29% and 33%, respectively.
With the stock market sailing through blue skies at the present time, many investors may not see a storm on the horizon. Others, like our clients, are constantly carrying an umbrella. After all, it has been a long time since we had even a 10% or greater correction in the major indexes (although we did see a 10%-plus fall in the small cap indexes earlier this year).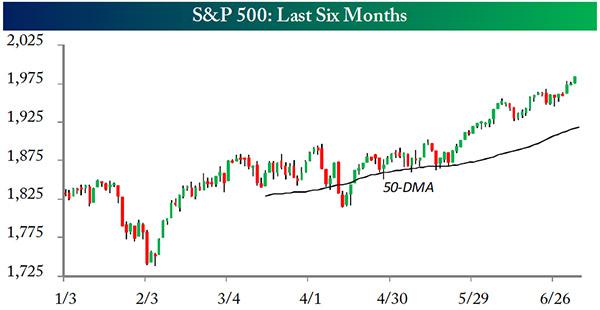 Source: Bespoke Investment Group
Still, as I have been saying since late last year, any corrections should be used as a time to increase one's participation in the stock market. It's not a time for investors to hide under the covers.
With the market hitting new highs, it is, of course, in overbought territory where a correction is possible. Interest rates, in anticipation of a tightening by the Federal Reserve (even if most expect it will not occur until 2015) have been rising - normally a negative for stocks. But maybe not, as even with an increase of over 100 basis points they will still be below average for stock market rally periods.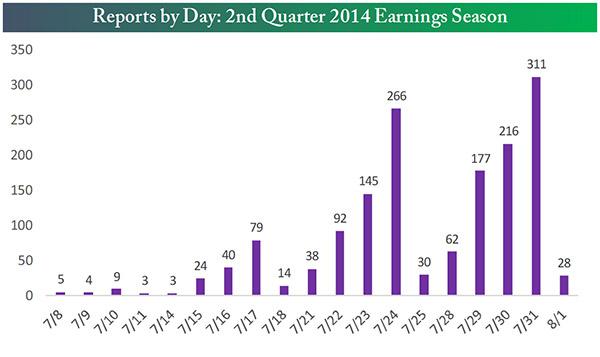 Source: Bespoke Investment Group
Earnings season starts tomorrow and will hold the stock market hostage for the next month or so. We enter the period with analysts mostly in what has been over the last few years an uncharacteristically bullish mode. While I believe that earnings will be up this quarter and the number of earnings reports beating expectations will be in line with the immediate past, the contrarian in me fears the analysts' suddenly bullish tilt. A number of earnings failures could spell doom for the rally.
Economic indicators are mixed. While we applaud the improved employment numbers, it is disturbing that unemployment claims increased and labor force participation rates continued to decline to new historic lows! Last week ten economic indicators exceeded expectations, ten disappointed and five were right on their predicted levels.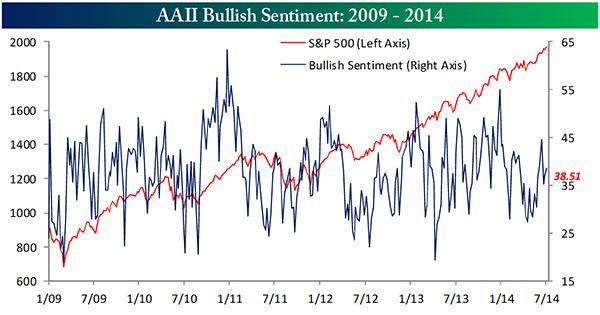 Source: Bespoke Investment Group
Similarly, investor sentiment provides us with little encouragement. Bullish sentiment as measured by AAII is just in a middle ground - not over- or under-confident. It is surprising that investors are not enthused by a rally that is setting record highs almost daily. That is a positive in my book.
Since most of these traditional bull market pillars are sending mixed to negative signals for the short term, it's easy to see how we could be in for a storm in the next few days. It would allow us to work off some of the overbought pressures in the stock market.
But when I look at the intermediate term, I still see higher prices in the forecast. A number of our intermediate-term (30- to 90-day) indicators continue to suggest opportunity for profits. So any declines here in tune with the shorter-term indicators should be viewed as another chance to get onboard the stock market train that has been moving steadily uphill.
Summer storms have a habit of sneaking up on us, and the results can be dramatic over the short time they stay around. But it's important to remember that when we are in the summer months most days are not stormy, but instead the sky is blue, the weather is warm, and for the most part it's sunny.
All the best,
Jerry
P.S. Thanks to John Zilli for his inspiration regarding today's article.